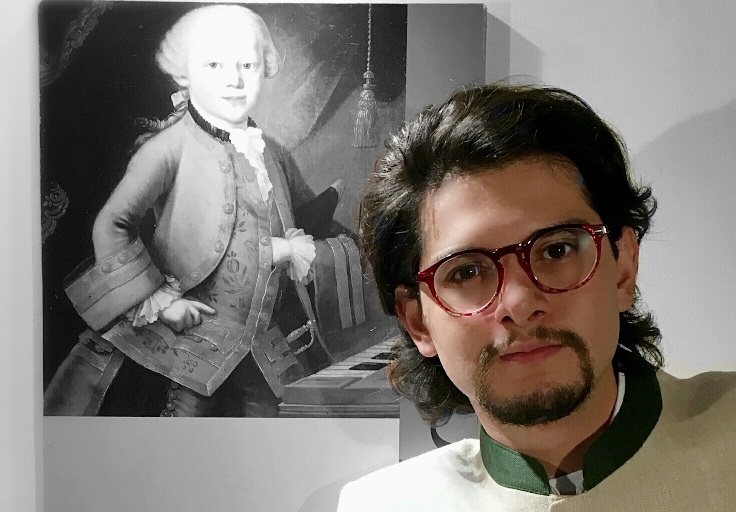 Sebastián Wanumen Jiménez (MA 2015) is a Lecturer in History of Music and Musical Analysis at Corpas University, Bogotá.  Sebastián carried out an MA in Musicology at the School of Music.
I will always be grateful to Cardiff University. The School of Music offered me a vast array of topics covered by a variety of experienced lecturers who were well known within academia. In my undergraduate studies their names were frequently cited so I was familiar with their work and was eager to be taught by them.
The faculty and the staff were always willing to help at the School of Music. I felt supported and encouraged to improve my performance as a musicologist. As a result, my classmates and the PhD students were always working together and looking forward to see the other's research.
Going to Cardiff University was essential for reaching my goals.
After graduation in 2015, I was invited to be visiting professor of music with a fellowship of the Colombian Ministry of Culture at La Universidad Pedagógica y Tecnológica de Colombia.
In 2016, I was appointed as Lecturer of Music History in Bogotá at Corpas University. Since then I have taught History of Music and Analysis to undergraduate students majoring in music performance, History of European twentieth-century music and Latin-American twentieth-century music. I am also researching methods of improving teaching techniques of music analysis and music theory.
During the same year as my appointment at Corpas University, the Colombian National Symphony Orchestra invited me to write some of their season programme notes. For 2017 and 2018 I became the official annotator of the Orchestra.
At the beginning of 2018, I was also appointed as part-time lecturer of the National Pedagogic University. It has been such a privilege to work both there and at Corpas University.
In March 2018, I was accepted to the PhD Musicology programme at Boston University. I received a full five-year scholarship and I will move to Boston in September.
I will remember my time in Cardiff as dynamic, supportive, friendly, hardworking and intercultural.