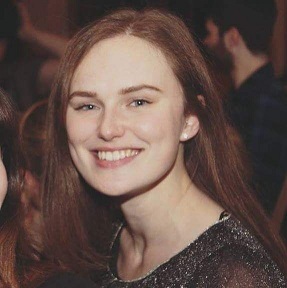 Emma Garnett (BA 2015) is a Key Account Assistant for a railway technology business which has an annual turnover of £0.5 billion. Emma, who studied English Language and French, says "it's always a joy to return to Cardiff".
I grew up in South Wales so wanted to take advantage of having a Russell Group university on my doorstep. I was attracted to Cardiff's joint honours provision which was perfect for someone like me who was having trouble deciding what to study. I was able to combine a subject I had always excelled at in school with a subject I simply found fascinating.
My year abroad in France was my favourite part of my degree. It was an opportunity I probably would never have had the chance to do were it not for my degree at Cardiff University. I experienced struggles as well as plenty of fun, but the support of staff in the School of Modern Languages was unwavering throughout. I felt particularly proud to give presentations on Welsh life to the classes I taught at a local secondary school near Chambéry, where I lived in France.
Today I work in the Key Account Management team of a global company. I work in the railway industry and contribute to developing work-winning strategies in order to upgrade the UK's rail infrastructure for the digital age. I liaise with our biggest client as well as looking out for new opportunities for work.
Since graduating I have worked across Communications, doing everything from writing employee newsletters and proofreading press releases to managing customer relations and developing a business intelligence data hub.
My degree at Cardiff University fed my obsession with language and bolstered my desire to work in Communications. My module on communication disorders inspired me to volunteer at a club for children with autism, which enlightened me to a new and wonderful community who I went on to work with for several years.
If I could give some advice to current students, I'd suggest that they spend time deciding which methods of learning and revising work best for them. Whether this is using flash cards, writing pages of notes or extensively discussing a topic with a peer, it's worth figuring out if it means you retain more information and ultimately perform better in assessments.
My lasting impression of the university starts with my tutors – I am still connected on LinkedIn and social media with some of them. They become your parents and your friends, and they do all they can to help you flourish. It's always a joy to return to Cardiff, as the first thing you see stepping off the train is a sign welcoming you to 'the home of Cardiff University'.