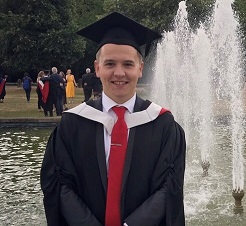 Matthew Whitley (BA 2018) studied French at the School of Modern Languages and has recently secured a role at international auditors KPMG. He believes that "languages are a fundamental need in all professions."
I have always been passionate about learning foreign languages, especially French as I visited France quite a lot throughout my childhood. The opportunity to study the language in more depth and live in France for my year abroad was hugely appealing.
I loved the close-knit community feel that the School has. It's a really nice size which allows you to get to know your fellow students and tutors on a personal level which really improves your learning and social experiences.
My favourite memory of my time at university was my year abroad in Nantes. I loved every moment of it as I was involved with a local football club whilst living there. I was able to play and coach football which was a brilliant experience and will always stay with me as it allowed me to form some really strong friendships. I also worked as an English Language Assistant in a "Lycée" (a state funded secondary school) as part of a work placement scheme. This was really rewarding as it allowed me to gain valuable work experience and also allowed me to explore a different professional culture which will be very useful in the future.
I have recently accepted a job with KPMG on their Audit Intensive Graduate Scheme. I will be working on client facing audit projects whilst also working towards gaining the ACA professional qualification which I will obtain upon completion of the three year graduate scheme and will then be a qualified chartered accountant.
My studies at the School of Modern Languages were extremely beneficial as they provided me with both academic and personal skills needed to achieve within a professional environment. Languages are a fundamental need in all professions as communication is vital to creating a successful business. Companies are always on the lookout for talented linguists to help expand their business and client base.
For me, being able to speak French at KPMG will open up lots of professional opportunities. The company has offices worldwide and a global client base so I am looking forward to being able to use the language skills that I have developed within the world of work.