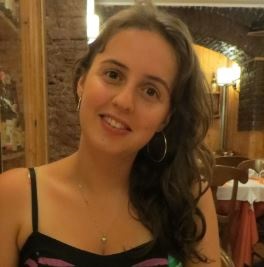 "Vibrant, inspiring, rigorous, passionate and home" are the five words Lucy Jenkins (BA 2014, MA 2015) used to describe Cardiff University. After graduating from the School of Modern Languages in 2015 she returned two years later as National Coordinator of the Modern Foreign Languages Student Mentoring Project.
Choosing to study at Cardiff was not a difficult decision to make. Living in the area and being aware of the costs associated with going to university, meant that staying local to home was the best choice for me. In addition, a very inspiring visit to Cardiff for an Open Day, when I met my future Italian lecturer for the first time, completely confirmed my decision.
Seeing and feeling the energy of the School of Modern Languages and in particular the enthusiasm of the staff, made me sure that studying a language at Cardiff would be a great experience.
Without a doubt, my most memorable experience as a student actually took place outside Cardiff when I spent my year abroad in Parma, Italy. My year abroad was the best year of my life and it completely opened my eyes. The preparation that we received from the School was second-to-none and gave me the confidence to tackle what was a very daunting challenge with excitement and enthusiasm… and a pinch of nerves. Studying abroad grew my confidence, my language abilities and allowed me to meet people from all over the world who remain some of my closest friends today. For me, it completely changed my outlook and has had a massive influence on my career choice.
The support I gained at the School of Modern Languages and the skills I developed through my language study have been vital in giving me the confidence to present myself positively, and always 'put my best foot forward'. The rigour of both my BA and MA programmes taught me to be conscientious and hard working at all times and this has certainly contributed enormously to my success.
After graduating, I secured a three-month internship at education company, Rewise Learning which led to a full time executive position. After 15 months in the role I applied for the job of National Coordinator of the Modern Foreign Languages Student Mentoring Project which is run from Cardiff University.
There is no such day as a regular day in this job – which is why I love it! The project works in partnership with three other Welsh universities and from meetings with funders, to meetings with learning technologists, to attending conferences and liaising with schools and mentors, my days are full of variety and lots of interesting people.