In the first of our blogs For Alumni, By Alumni, Graham Findlay (PgDip 1991) considers how the COVID-19 pandemic might have brought flexible working a step closer for disabled people. Graham has worked as a disability rights campaigner for many years.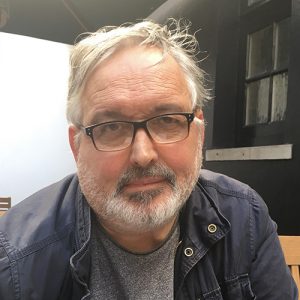 Although we're all in it together, the COVID-19 pandemic has hit disabled people particularly hard in the UK. We've been labelled as a "vulnerable" group for many decades, and though many of us resist that label, it's difficult not to accept that people with long term health conditions are having a worrying and difficult time.
Employment has been a long-standing area of exclusion or barrier for disabled people. Although more than 3.7 million disabled people are in work, disabled people are more than twice as likely to be unemployed as non-disabled people.
One of the main barriers to employment has been the lack of flexible working arrangements, and a rigid approach by employers as to how employees manage their workspace and work time. This usually means having to travel to an office and be seen to be present and visible at all times in the workplace – sometimes known as presenteeism. Many talented disabled people are being excluded from the world of work, with some employers (not all) seemingly unwilling to alter their practice to benefit from our loyalty, tenacity, productivity and expertise.
But the lockdown due to COVID-19 has suddenly transformed everything. Employers have been forced to rapidly adopt working from home methods – setting up laptops for everyone and getting to know how Teams and Zoom meetings can be run effectively. And the benefits that disabled people have been lobbying about for years are already becoming apparent.
I've been working from home for over a decade and know through lived experience how well it can work. Unless you need to, for example, work in a factory or lab, drive a van or deliver face to face training sessions, almost every task and activity can be achieved remotely. It's really just a matter of recalibrating your learned expectations of what work looks and feels like.
The main counter argument to working from home revolves around a trust issue that's held primarily by managers – would employees actually do any work if you couldn't see them, or would they spend the whole working day playing on XBox? As we're now discovering, if you give employees – disabled or not – the freedom and autonomy to work flexibly, the quality of output often increases rather than decreases. And the other myth, that working from home is socially isolating, has been foundered by the rise of apps like Teams, where you can banter and chat from Cardiff to colleagues from Glasgow, Sheffield or indeed anywhere in the world.
But perhaps the most important issue about flexible working for disabled people is that it can be a very accessible way of working. Technology can be flexed and tailored for disabled employees to ensure that they can fully participate in and contribute to the workplace – something that does happen in office environments, but for many disabled employees having an accessible, home-based office is critical for their productivity.
In my opinion, this mostly unwanted and unplanned wholesale shift to home working has been a massively positive move for disabled people, but also many others who are beginning to personally experience what we've argued for, for decades. I fervently hope that we don't return to the "good old days" of office-centric, inflexible employment when the pandemic is over. The working from home genie is out of the bottle, and we shouldn't try to put it back in.
Tell us what matters to you
We've introduced 'For Alumni, By Alumni', because who knows our alumni community better than…you guessed it, you! We'd love to hear from you with ideas for articles or online events that you're interested in, you can give insight on, or maybe you ARE the story! Check out our full line-up of articles and watch back our live events playlist.