What Can Taylor Swift Teach Us About Business?
13 December 2020
Conscious of the need to write a blog to close out the apocalyptic nightmare that is 2020 and welcome in the glorious new dawn of a No Deal Brexit in 2021 (surely be to God they won't even consider this whilst we're in the middle of what we're in the middle of?! SIGH) I was slightly concerned that I would venture too darkly into a depressive abyss…. but Pip Thomas of Bailey Thomas Ltd has saved the day and has suggested that I should orientate this month's blog about the wonder that is Miss Taylor Swift.
Two of the 6 geniuses in the Lethbridge female singer songwriter hexagon of joy (shown here for reference) Taylor Swift and Laura Marling released surprise albums this year to help the world through the pandemic, and well, they have both helped me, immensely. Looking at the Hexagon it strikes me that I also really appreciate them all as women as well as musicians.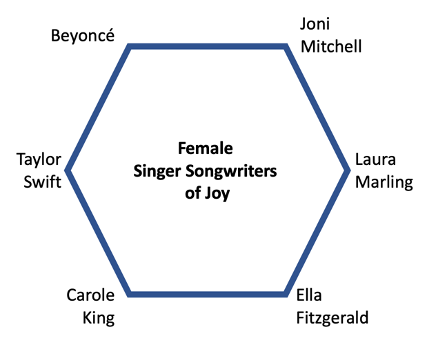 Taylor Swift, for example, is an amazing businesswoman. As she states in her song "The Man", a song that screams with the frustration of unfairness of her career experiences as a woman, she muses that if she was the opposite sex:
"They'd say I hustled
Put in the work
They wouldn't shake their heads and question how much of this I deserve
What I was wearing
If I was rude
Could all be separated from my good ideas and power moves"
I agree Taylor, I agree. You are chock full of good ideas, power moves … and surprises. After the sublime album Folklore that she released without fanfare in June, she's released yet another one 5 months later?! I am still just coming to terms with how much I love Folklore, how 'elegantly simple' it is *kerching* (and as my one fan of the term Elegant Simplicity TM knows, that means that it's actually really clever and deceptively complex) and then she just releases another one?! I'm not sure I can cope. It has taken me 2 whole days to summon up the strength to start to listen to it.
And now I have and just well … gosh. 🥰
So Taylor Swift is a master of songwriting as well as a master of business and let's look at some of the reasons why.
Collaboration
Taylor knows that many heads are often better than one. Her longtime collaboration with Jack Antonoff seems to be pure and supportive and yields brilliant results. Most recently on her last two albums, she has teamed up with Aaron Dessner of The National (amazing band) and It has led to really beautiful, quiet, haunting results. What's important here is that I feel like Taylor just really trusts both parties implicitly. The mutual respect is there and shines through their social media posts of mutual appreciation. This is so important I feel. You can only collaborate truly when there is a shared respect of each other, genuine affection and trust. When this exists, the results can be beautiful. Beyoncé is another woman who chooses her collaborators extremely wisely, trusting their expertise and letting them shine knowing that their genius only adds and enhances your own.
Puts Herself in Her Work
Taylor is known for songs that come from the heart. Every feeling that she has felt, she has shared and talks about how songwriting is her opportunity to process these thoughts. Joni Mitchell (top right of the Hexagon in prime position) is another genius who bears her soul in her songs to astounding effect. I wish that we could share similarly in business, more soul sharing, more honesty, more care (see my last blog for more information on this topic). I truly believe that more feelings and heart in business would make the world a better place.
Imagination
Most notably her 2020 albums have led to a self-confessed departure for Taylor where she has let her imagination run riot away from her auto-biographical songbook, expanding to tell stories of other people, real and imagined. This expansion has given her a new freedom to move into exciting new areas of songwriting. To me it's a reminder how we need to create time and space to try new things, to see where they can take us and they'll usually always lead us into productive, creative spaces. 
Do What Feels Right
Her decisions this year have flown in the face of music release convention. To release 2 albums in such quick succession?! Neither without any prior publicity? I mean, Beyoncé has a very successful track record in this regard granted, but Laura Marling felt the compulsion this summer too. Both women declared that they were driven by a pandemic inspired need to create and share their work, regardless of schedule. I admire this drive to just 'do'. Increasingly I more and more understand the importance of patience in order to get a job of work done, that often it takes much longer than you want, or that it should, but that you should trust in the process and understand that you cannot force what cannot be forced. But yes, these women are in charge of their own schedule of change and as Taylor says "my gut is telling me that if you make something you love, you should just put it out into the world".
Knows her Worth
Part of the reason that she is a savvy businesswoman might be because she understands how easily things can go wrong, and well, how awful people can be. Following signing her record contract with Big Machine in 2005, at the age of just 15, she released 6 albums, but unfortunately didn't own any of her master recordings. When she left Big Machine to join Republic, Scooter Braun, somewhat of an enemy (you can read more about why here) bought the company and therefore her master recordings. He subsequently sold her recordings again to Shamrock Capital leaving Taylor to declare that this was "the second time her music had been sold without her knowledge". Her contract with Republic made sure that she owned the master recordings of her own work and she has already embarked upon a cathartic re-recording of her initial 6 albums to reclaim them.
And I wish her well on that mission. She's given me hours of listening pleasure in this abhorrent year and I thank her for it so much.
---
Comments