The Love Island Blog
2 August 2021
Every month Executive Education sends a newsletter to its community to remind everyone that we are still here, open for business, and to let people know about the events and courses that are up and coming. At the end of each newsletter, as you can see, I write a little blog to attempt to connect with our community and to hopefully help people to reach the end of email. I like to think of my monthly blog as the 'and finally…' moment of the evening news… a chance for a moment of levity and humour in amongst a sea of serious BUSINESS.
As you can imagine, some months I have a million relevant thoughts to share, other months, finding a topic can be a bit more 'challenging'. This means that I've written about Piers Morgan, Taylor Swift and today, dear Reader, tis the turn of… Love Island. (Please note that I always make sure I write my blog outside of working hours in case anyone would query my use of University business time for such activities – rest assured my working week is spent 100% IN THE ZONE). Anyway, brace yourself for reflections on the tropical ITV2 reality show. There is a business message in here honest.
Me and Love Island have been together since the start. Before it was popular. Before it was cool. I love the romance, I love the shock recouplings, I love the drama, I love the life lessons. As someone whose brain finds it difficult to slow down and chill, I greatly enjoy the one hour (one hour plus when there is too much for the Producers to cram in!) of frivolous light relief guaranteed each day. Love Island is there for me every night, at the same time, 9pm, offering reliable comfort whilst being steeped in glorious summer vibes.
Facebook friends already know my Love Island Love because each year I post about how excited I am that it's about to start.  It's fair to say that this news isn't always greeted warmly.
But I will not be dissuaded from my Love Island Love.  After the crushing never-ending nightmare that was 2020 (no Love Island) what's been exciting this year (other than the return of Love Island) is that I've been given a special Love Island mission by my cousin Jo.  My Goddaughter Elsie is being allowed to watch the series for the first time, mainly because all of her friends are allowed to watch it and she is getting of the age where a ban would simply be impossible to enforce and would have worse consequences than its initial intention. 
Her Mum texted me to share her concerns. She knew that I was a major fan and she wondered whether I could make sure that I was on hand, in case of problematic moments, (there will always be problematic moments) to reinforce the path of truth and justice.
Could I?! This is MY type of assignment. "I AM IN". I wrote and then posted a Yoda gif.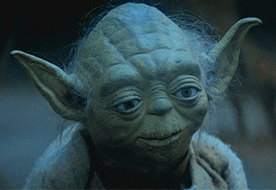 As I accepted the role I reassured my cousin that it was much better to engage in the issue and attempt to educate as opposed to turning your back on the problem and leaving it to fester. Luckily, in this regard, Love Island contains a myriad of different teaching points and life lessons.
One of the main ones to be had is that most interesting of phenomenons where, when people do wrong, rather than say sorry and admit their guilt, they start attacking you. It has to be said that this is usually quite an effective method of getting out of something. It catches the recipient off guard and bewilders them, to the point where they start inwardly reflecting whether they are actually to blame, distracting them from the original issue. This happens in Love Island (a.k.a LIFE) A LOT.
And each time it does, Auntie Sar is on hand to point out the injustice. And it seems that I am not alone in using Love Island in this way. Last night I saw this tweet from Ayesha Hazarika (a serious journalist!) confirming my use of Love Island as important development practice!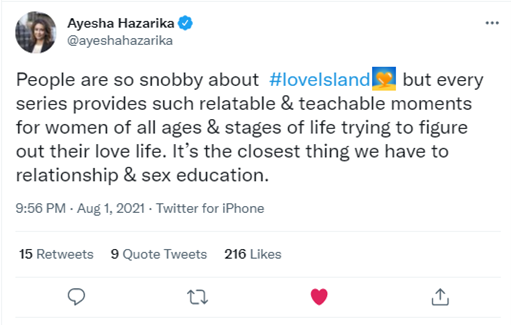 And it made me think, you can navigate any problematic situation as long as you have a coach and teacher to help you reflect on the experience and guide you through it. As problematic as Love Island can be in terms of giving people almost unattainable goals of beauty and positioning humans as merely objects of desire … as long as there is a coach, you can extract important conclusions and turn negative situations into positives. Even terrible behaviour and major mistakes can be turned into powerful life lessons when the right person is there to guide you through.
Reflecting on what this means to the workplace is quite interesting. How many of us are assigned coaches who can help us to work out what's actually going on and how we need to progress? How often is poor behaviour in work genuinely called out with explanations as to why what happened was NOT ok? How often are mistakes in business truly admitted and used as an opportunity to grow and learn? I don't think this happens anywhere near as often as it needs to. I still think that there is so much more room for humanity and honesty within business and I'll continue my quest in trying to right this wrong.