[Let us] Help [you] to Grow: Management
5 September 2021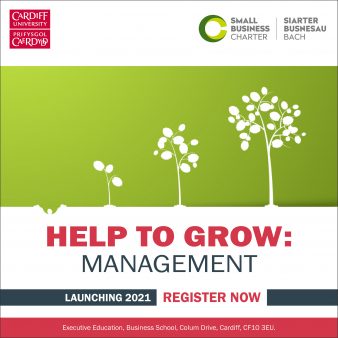 Guest post by Dr. Jane Lynch, Programme Director of Help to Grow
In 2019, Welsh Government estimated there were 267,000 enterprises active in Wales with 95% of these registered as Micro enterprises (0-9 employees). Small and medium sized enterprises (SMEs) in Wales account for 62.4% of employment. Business ownership is booming.
Being raised in family businesses since the age of 11, I can say with some authority that leading your own business is exciting and it can be hugely satisfying but you often feel exhausted and managing day to day operations can occasionally feel like 'tunnel vision' –  running a business always brings challenges but the unstable business environment we have endured during the last 18 months has made these particularly testing times. There is no doubt that the headache of managing cashflow, employees, inventory levels and other business activity can feel like a dark and a lonely place, particularly when you need to make important decisions.
Business leaders representing all sectors and business sizes have been forced to make some difficult decisions during the last 18 months – including understanding the impact of a changing business environment in Wales, the UK, and the world. Keeping your business stable let alone developing plans for growth requires careful planning and requires trusted experts to help.
For these reasons, we are delighted to join other world-class business schools, accredited by the Small Business Charter to deliver a NEW executive programme designed as a practical management training programme for senior managers and leaders of micro firms and SMEs. At Cardiff Business School we are proud of our Public Value strategy and share a mission with business leaders to remain focused on making significant societal and economic contributions to Wales and the world.
This NEW Programme will be delivered by leading small business and enterprise experts from Cardiff Business School, with the support of leading figures from industry and experienced entrepreneurs.
The programme will cover critical areas of leadership including:
Strategy and innovation
Adopting digital technology
Building vision and brand
Growing national and international markets
Engaging and inspiring teams
Creating customer value
Adopting responsible business practices
Leading for high performance, and
Financial management
Finally, let's talk numbers – this well supported Help to Grow: Management Programme is 90% subsidised by UK Government and costs £750 for each delegate. In exchange you can expect 12 weeks of modules plus 1:1 support from a business mentor, peer-learning sessions, and an alumni business network. This includes 8 facilitated online 2-hour sessions, 4 practical and interactive case study workshops.
Each delegate will benefit from one-to-one support from an experienced business mentor who provides personalised support to develop a business growth plan.   You will also gain so much learning from the peer networking provided, including peer group calls that provide an opportunity to share experiences with a small group of similar business leaders. Following the programme, each delegate will also have access to the Alumni Programme featuring events with inspirational speakers, business clinics and other networking events.
Please help us to share this exciting development and if you are a Micro or SME business leader, join us and register – we introduce a new cohort each month.
If you need to learn more and would like to register then please open this weblink Help to Grow – Management – Small Business Charter
For all other questions, get in touch with us at Cardiff Business School – Programme Director, Dr Jane Lynch LynchJ2@cardiff.ac.uk Tel: 02920876144