"Just Do the Next Right Thing"
7 March 2023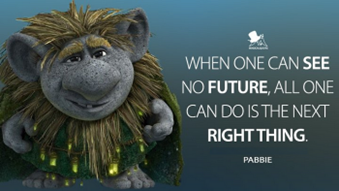 Regular readers will know that I am partial to collecting new business terminology.  Usually this language comes from an academic or a business expert, but today, I offer you a phrase popularized by Grand Pabbie from Frozen 2.
Created by Disney as the wise sage of Arendelle, able to turn from bulbous rock into moss topped troll in a few seconds, Pabbie is there to offer, albeit slightly cryptic, advice to Elsa and Anna when they most need it.  His advice in the first Frozen film was really quite dubious however and could definitely have benefited from more precision – his 'fear Elsa's powers' warning tore two sisters, and consequently their whole family, apart (can you be a bit more specific in future Grand Pabbie and maybe offer some hint of a solution within your wily mutterings?! Perhaps tell the King and Queen to not get on that boat whilst you are at it).
However, he seems to have pulled himself together by Frozen 2 and his advice is altogether more practical.  To the point where Anna sings a whole song around the "do the next right thing" concept to help her through her darkest moments when contemplating the death of her sister. It's a deeply poignant moment in the film and one that induced hot, fat, blubbery tears from me when I watched it for the first time.  I have to confess that when watching this film (multiple times) with my daughter, it never entered my head that it was astute business advice and yet I've heard the phrase "do the next right thing" discussed in a business context twice in the last two weeks!
The first was by Dave Snowden within an interesting seminar as part of a "Trans-Atlantic Conversations" Audit Wales series where he was talking about the "Vector Theory of Change" and how his company helps organisations to codify conversations to determine the travel of organizational improvement.  I have seen Snowden talk about his approach to organizational complexity a few times and I have to confess, that, perhaps unsurprisingly, I have found his approach 'complex'.  My approach to organizational change is to demystify and simplify.  It took me quite a long time to truly appreciate and grasps the concepts of lean and I take pride in trying to convey these concepts as simply and quickly as possible to others. That's not to say that I think making 'lean' change happen is simple, it absolutely isn't, but often what you are trying to achieve is simple.  I think it's important for all employees to get onboard with the journey, and critically, for leaders to build improvement as part of their approach to leadership. The getting what you are trying to achieve done is hard, but the aims absolutely shouldn't be. I think too often people forget about the aims: making the service experience better, improving quality levels, reducing the end-to-end lead time of delivery – so I was delighted to hear Snowden discuss complexity theory in a way that I was able to understand it (I think).  His approach helps leaders to better understand the direction of change, by analysing stories from people on the ground, encouraging leaders to do 'more of what works' and to 'keep doing the next right thing'.   Listening to their approach being described it felt like it was very accepting of the messiness of change, but that with some analysis, a change leader could help to make tweaks and help to steer the direction of change.
The second time the phrase was uttered was at the ACCA St David's Day Breakfast in the Hilton Hotel where Noel Mooney, Chief Executive of the Football Association of Wales, was reflecting on the Wales' team time in Qatar and the importance of good governance and adherence to organizational values.  Noel gave an authentic and honest account of how difficult managing the complexity of Wales' presence in a country full of human rights violations was and that moral and ethical decisions were flying at him every hour. The approach that he adopted was to hold true to the FAW's values and to simply 'do the next right thing' in the face of every decision. It helped him to navigate a path through the complexity.
Described in this way does help to demystify the pain of high risk decision making. And following this 'do the next right thing' practice can help you to better understand and direct change.  Yes, the power of the small things isn't to be ignored and I resolve to focus on the importance of doing the next right thing in future!