Help to Grow Coldplay Style
7 June 2023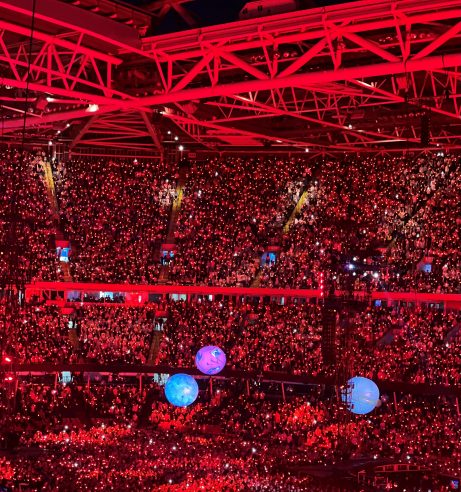 Music is my constant.  I used to be completely obsessed, regularly going to tiny bands on my own on any night of the week … life, and being too tired to stand up for hours on end past 9pm, has radically decreased my random gig going but I still go to more than my fair share, particularly when I think that a band I hear on the radio or on Spotify is going to be mega successful in the future.  I love that big-headed feeling of "oo I knew about them first… I saw them in *insert tiny cool venue* before they went massive you know" (aka I DO have cool genes – honest!)
But I will also happily watch bands who I adore in large venues and am currently in the middle of a month of mega stadium gigs. My first, Queen Beyoncé, musical genius and living goddess, was a complete triumph. I have rewatched all of the footage several times. Harry Styles (amazing songs and gorgeous voice) is next and if I DON'T GET TO SEE TAYLOR SWIFT on a UK leg of her Eras tour, I will literally explode.
Last night however was the turn of my überfave – Coldplay.  I love Chris Martin. I love the band.  I love the songs. I love remembering how much I adored them, how many wistful (and very dramatic) nights I spent singing wholeheartedly to their songs of lost love, how the song 'Sparks' is the default song in my head, and how many months of my life I spent on the Coldplay messageboard. :/
I didn't love the last album that much, but let's not dwell on that, they are completely deserving of their world domination and will forever hold a massive place in my heart.
They put on an amazing show last night, the boundless enthusiasm and love radiating from Chris and the rest of the band, the massive glowing balls of fun bouncing around in the crowd, the confetti bombs, the crowd interaction, the impressive light up wristband displays, the letting us hear the classics whilst playing enough songs of the last album to justify the "Music of the Spheres" tour title … but I'm meant to be writing this blog in a BUSINESS capacity.  So let me now comment on some of the BUSINESS lessons I think that they shared with us last night, which I think are particularly pertinent for small firms who 'make it' and can expand and grow.  How do you protect what was special about you in the first place as you march onward to global superiority?
1 – Coldplay completely contextualised their set to their location – this made a massive difference in terms of their ability to connect. The captions on the screens playing environmental awareness videos before the band came on were written in English and Welsh.  Seeing the Welsh up there made me realise that hardly any other band does that with their visuals?!  Which is pretty shocking actually. They made the effort and it mattered.  Chris spoke lots of Welsh welcoming people to the 'greatest Tuesday of our lives', commenting on the fact that they wrote the song Yellow in Rockfield Studio in Monmouth,  their "Musical Hogwarts" and so "the song is actually 'ours'".  Lovely mention of when they first played Wales in Clwb Ifor Bach the night before they went to Glastonbury (I was there!) and how you can always guarantee on Welsh crowds for amazing singing. (We love people knowing that).  Kelly Jones of the Stereophonics came on! The Bridgend Male Voice Choir sang the national anthem! One of their Uni mates who comes from Ogmore came on to sing a song! Jonny Buckland is from Mold!   Everything oozed warmth, care, Wales and connection.
There's big business in big business better connecting with their localities I think.
2 – There was an awareness of the tension between being thankful for what you have achieved with your mega stardom status, but also an understanding of the potential damages that collide with this reality. With this tour they made a bold statement that they were going to make the Music Of The Spheres Tour as sustainable and low-carbon as possible, reducing their consumption, recycling extensively and cutting their CO2 emissions by 50%.  This is guided by three principles:
Reduce – Reduce our consumption, recycle extensively and cut our CO2 emissions by 50%.
Reinvent – Support new green technologies and develop new sustainable, super-low carbon touring methods.
Restore – Make the tour as environmentally beneficial as possible by funding a portfolio of nature- and technology-based projects and by drawing down significantly more CO2 than the tour produces
Whilst waiting for them to come on stage we saw footage from all of the charities that they were supporting to tackle environmental devastation and we are reminded at the end of the gig, that we've all contributed to as a result of buying our tickets. *warm, fuzzy glow #86*
There were kinetic pads which generated electricity when people danced on them, power bikes to charge up the generators for the next gig and a very clever gamification recycling challenge to return your glowing wristbands by challenging Cardiff to beat Chicago and London's wristband recycling percentage. Chris even arrived in Cardiff by train!  It genuinely felt like this was an issue that they really were trying to do something about and it seems that it's working as they have reduced their carbon emissions by nearly half.
3 – Despite the warmth, locality and connection, this was very much the workings of a slick, well oiled, fine tuned mega machine obviously well versed in serious operations management.   In our high seats to the left of the stage we could see how many people were working to make the gig so seamless. Indeed, as the credits rolled at the end of the gig (again, not many bands ever do that, and they should!) you could see just how many.  There were A LOT. Everything was orchestrated to perfection, from the synchronised colour changes of the wristbands to the music. (Yellow of course, prompted all wristbands to glow yellow. Green eyes, green. etc. How did the wristbands know how to make the big red hearts?!) The timing of the fireworks to key crescendos in the music, every corner of the stadium was 'worked', particularly with a view to making sure that no-one was at a disadvantage.  It was very impressive.  60000 people were in the palm of Chris Martin's hand.
So what's the lesson other than Coldplay are amazing? Well I think it's that you can be huge but still connect to what matters to people on the ground. I think that the fancy term I heard for this was 'Glocal' – global reach but local impact. You can be massive but can make big leaps into reducing your carbon footprint and making a difference, and finally, that fantastic operations management makes for beautiful service experiences. 😉
p.s. if you'd rather Coldplay weren't your business' guiding light why not join our Cardiff Business School's Help to Grow programme to discover more about how to take your SME into the stratosphere?!