A Tweet's Tale
5 April 2021
Last month, I finally 'went viral'. As a fan of social media (Facebook to keep in touch with family and friends, Instagram to keep in touch with celebs, Twitter to keep in touch with global events) I had always sneakily wanted to go viral. I'm not sure why, it probably stemmed from my days of hanging out on messageboards of bands I loved where you could become a bit of a board celebrity by posting amusing bants regularly and gaining some messageboard mates who shared similar interests and the same sense of humour.
The days of hanging out on music messageboards are long gone of course – work is far too busy, family life far too demanding, but I do dip into Twitter every now and then and hope to tweet something that resonates with people. I have longed for some of my ideas about lean and improvement to resonate, but in the end, it was Meghan Markle and Piers Morgan that delivered the fleeting fame that I had craved. I think my most successful tweet prior to my 'tweet that went viral' wasn't even about lean, it was wishing my friend Happy Birthday! at a Learning and Teaching Conference, cognoscente of how liked I know she is by everyone and having cunningly used the conference hashtag to garner more attention.
Many of my tweets are more feminist than lean I suppose – I share my incredulity at the latest light sentence given to a perpetrator of male violence, or an overly hefty sentence for a female shoplifter. I always like to point out when there is an all male panel at a conference (usually a conference relating to innovation I find – oh how I wish that women were more innovative *raised eyebrow of cynicism*). On March 3rd I was getting ready for yet another taxing day of w.f.h., Good Morning Britain was on in the background for Piers Morgan larks (I know… I shouldn't add to the ratings) and I heard man after man talk, with zero evidence, about whether Meghan Markle was a bully or not. I have no insight into the Royal Family whatsoever but I do know that Meghan challenged Proctor and Gamble's sexist washing up liquid advert successfully and that makes her a feminist hero in my book.
The rage rose and so I did what any good feminist would do, took a photo of the television and took to Twitter.  Having learned the power of a strategic hashtag, I knew that #GMB would attract an audience way beyond my (almost) 800 followers. It is definitely a more powerful hashtag than #lean (alas). I paused as I wrote the tweet however, because I know what a dark place the internet can be, particularly for women. My friend is a music journalist and she has been very open with me about the threats and abuse she has received just because she gave a band a bad review.  Indeed, nearly three-quarters (73 per cent) of female respondents to a survey of journalists said they had experienced online abuse, harassment, threats and attacks. So I wanted this tweet to be seen, but I didn't want anybody to personally have a go at me about it. #brave.  I therefore chose a statement which was factually correct to be followed with a fairly nondescript "so tired of it all" – a statement which inferred my feelings but did not directly pass judgement.  #clever.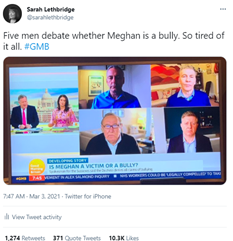 Very quickly, the pings began. I then instantly began to feel afraid. I reviewed what I had written, "Five men debate whether Meghan is a bully. So tired of it all." Nope.. not much there that could stir up a death threat Sarah. Stay calm, stay calm. Anything that could get me fired? No … don't think so … Should I delete it? No don't. You didn't say anything bad and it's important to point out these things… stay calm, stay calm. Ok, so what are people saying… early replies were, rightly, keen to correct my statement, which should have read "Five white men debate whether Meghan is a bully" and, to my shame, I had of course noted that this was the case, but I deliberately omitted mentioning race in my tweet because I knew that mentioning it would mean that it would likely attract more abuse. My aim was 'point out the injustice but please don't say anything mean to me' which was cowardly because I have every confidence that Meghan attracts more than her fair share of vitriol because she is a woman of colour. Outspoken female system disruptors are never appreciated that warmly, let alone when race is added into the mix.
I quickly muted tweet notifications for the tweet because it was giving me heart palpitations plus I had things to do. I suppose what was pleasing about the incident was that so many people agreed with me, but yes, there were tweets that were angling to have a go at me, trouble for them was, I hadn't given them much to go on. So in the 'people who have seen my tweet: death threat' ratio I'm currently standing at 1,080,629: 0. My "Sarah Lethbridge" google alert (which has NEVER previously gone off) told me that my tweet was even mentioned in Newsweek (the online edition) which pleasingly impressed my Dad. I imagine that it also played a critical role in Piers' decision to leave GMB as well. #ijest.
I felt cross with myself for wimping out of 'five white men' however and have resolved to confront such matters head on in future and to not be afraid. I'm trying to be a peaceful activist for change and feel proud to have the support of the Business School and University behind me. We're trying to address organisational inequality by scoping out an Inclusive Leadership programme as part of our Executive Education portfolio and our most recent Breakfast Briefing focused on gender equality for International Women's Day. Chwarae Teg, an organisation which seeks to 'inspire, lead and deliver gender equality in Wales' and Llamau, a charity that strives to ensure that 'no young person or vulnerable woman should ever have to experience homelessness' shared some of the horrifying realities that women face and discussed just how much there is still to do, particularly as the pandemic has exacerbated inequality horrendously.
So that was my viral tweet moment in the sun and on reflection, it was all a bit too scary. It is just astonishing how quickly something can ricochet around the world – and this was just a very mild case of the virals! I'll try to focus my energies on activities that can tangibly make a difference from now on (whilst at the same time noting some powerful lessons on how to post successful tweets).