Is this gap year really 'well-deserved'? Or is that just post university imposter syndrome talking? – For Alumni, By Alumni
28 September 2023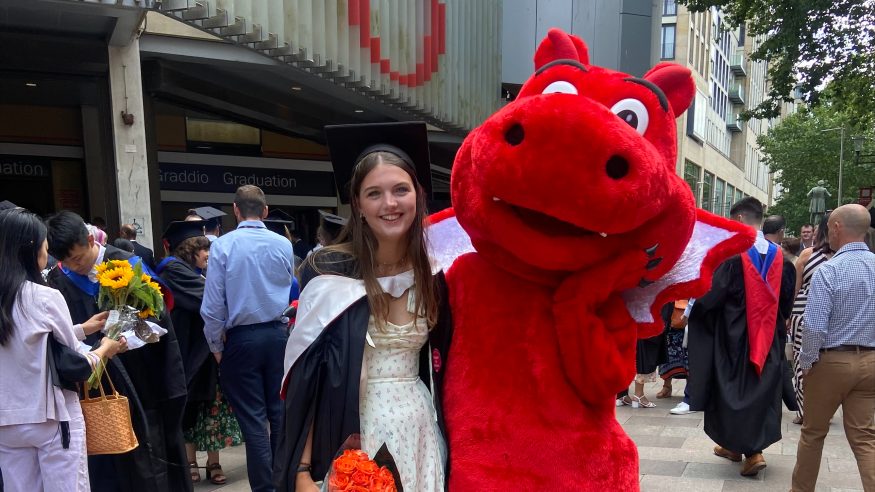 New graduate Lucy Robertson (BA 2023) reflects on her time as a student, and the idea of taking a post-university gap year instead of heading straight into the world of work.  
I started my English language and linguistics degree in September 2020 and have just graduated. It's been a long and impactful three years, but now it's come to an end I can't help but feel lost and without purpose. Like many of my peers, I decided to take a year out after uni to really focus on job applications and enhance my work experience. Everyone I've spoken to about this has been super supportive of the idea, and saying how hard I've worked. However, since moving back home I'm really questioning how 'well-deserved' this gap year actually is?  
This feeling is probably due to having just finished a six-week summer internship, and now being left with just my part-time hospitality job keeping me (not) busy (enough). The internship was with Cardiff University's social media team, helping create content for Instagram surrounding graduation week. This was so enjoyable and definitely very beneficial in terms of my future career prospects. However, after my first week of work (only 15 hours) I felt exhausted and so underprepared for full time work. Hence why, when comparing this to my student lifestyle, I don't feel like the workload across my three years at university is enough to warrant a yearlong 'well-deserved' break! In addition to this, the number of times last year I convinced myself to skip early morning lectures by telling myself I'd never be able to sleep in again in adult life, is uncountable. I do still stand by this, however, and don't regret any of those lie ins! I had such an amazing time in Cardiff and was so lucky to meet and live with my best friends. Every day was different, and every day was fun, which may be another contributing factor making me feel guilty for admitting to taking a break from such a great time at university.  
Although, I will admit that, yes, during deadline season I had probably never felt so stressed, and all the hours spent writing essays were pretty tiring. Equally, the feeling of always having a deadline looming, particularly during the holidays, was not something to be shrugged off as easily. I could also contradict myself by arguing that the 2020 cohort of students have had it worse than ever. In these three years we have had to face COVID lockdowns, lecturer strikes, a cost-of-living crisis and the uncertainty that comes with all of that. As this has been my only experience of being a student, I can't claim that we've had it harder than others, but I can see how difficult these past years have been, and why adults are so keen for me to have a year off. I also don't want to sound like I'm selling myself short or trying to reduce getting a degree to three years of lie ins! 
So, is this angst I'm feeling surrounding my post-uni gap year some kind of imposter syndrome, telling me I'm not good enough, or deserving of this year out? Because I had such an amazing time at university, do I now feel wrong for needing a break from all the hard, stressful work? Could another explanation be due to the inevitable comparison in my head between me and course mates? Many of them have gone straight into work, and so now I'm at home, I suddenly don't feel as good as them, and in a rush to start fulltime work? 
Altogether, then, I hope this short blog gives an insight into the thoughts of a fresh graduate, and hope I am not alone in this feeling. Is this a common feeling post university? If any of you reading this are relating, hopefully you can take it as a form of reassurance. One thing I keep reminding myself of if ever I have doubts about not immediately going into work is why rush to get a 9-5 job when we've got 40+ years to be doing that!  
I would love to hear any other alumni's thoughts/contributions on this dilemma.  
You can connect with Lucy through our alumni networking platform Cardiff Connected.  
We've introduced 'For Alumni, By Alumni', because who knows our alumni community better than… you guessed it, you! We'd love to hear from you with ideas for articles or online events that you're interested in, you can give insight on, or maybe you ARE the story! Check out our full line-up of articles and watch back our live events playlist.