Cardiff Firsts – opening doors to opportunities I'd never considered possible
21 September 2023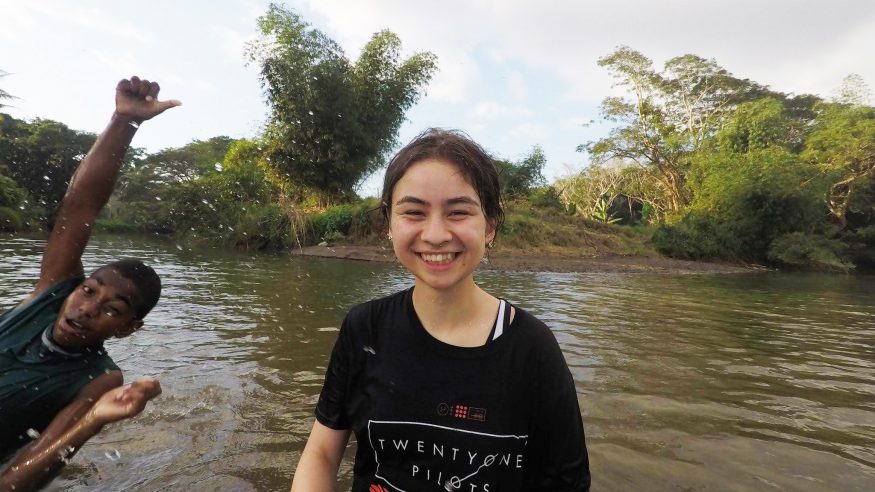 Emmanuelle Camus (Psychology 2020-) is one of 16 students to take part in the Cardiff Firsts programme funded by Santander Universities. Cardiff Firsts provides students from underrepresented or disadvantaged backgrounds with three years of support to help them get the most from their time at university. The support includes a cash scholarship, a Global Opportunity placement to work, study or volunteer abroad, and a paid internship. Here, Emmanuelle describes the impact Cardiff Firsts made on her student experience.
Successfully joining Cardiff Firsts opened doors to opportunities I'd never considered possible. The scholarship I was awarded was absolutely crucial. It gave me security during a particularly challenging period, especially with the financial pressures caused by the pandemic, and enabled me to continue my studies.
Cardiff Firsts also provided a Global Opportunities placement to travel and work abroad in Fiji, where I conducted mental health support workshops at local villages. In the workshops, I addressed the stigma surrounding mental health by facilitating wellness sessions, teaching activities like flight meditation and relaxation exercises. I shared knowledge about mental health and local support services available, and emphasised the importance of open communication about mental health challenges.
But it was a two-way knowledge exchange; I learned invaluable lessons from the Fijian people, immersing myself in cultural activities and visiting beautiful places, like Sigatoka sand dunes! I thoroughly enjoyed the entire placement – especially fishing for mussels and living near a waterfront adorned with bamboo! It was the first time I've ventured outside of my family's home country, travelling further than I ever thought I would be able to, and witnessing an entirely different way of life.
My internship was also an amazing experience. I took on a marketing role in Cardiff's summer schools, working with lovely groups of staff in various schools' outreach departments. My role involved reaching out to students from underrepresented backgrounds to create promotional digital content and filming conversations discussing their experiences. I collected testimonials from staff and ambassadors, and contributed to a university article summarising the schools' success. Being in such a supportive environment massively improved my confidence. Seeing what's needed to set up and run a successful summer school was eye-opening, and I enjoyed seeing the positive effect the schools had on all the students.
Cardiff Firsts enriched my life in countless ways. I never imagined I'd visit a place as far away as Fiji and my internship equipped me with skills that extend beyond those I could gain from academia. I will cherish the memories I've created through this programme and I'm so grateful to Santander for enabling me to embark on such incredible experiences.