What the Eisteddfod means to me Rhys Hughes (MA 2017) – For Alumni, By Alumni
25 May 2023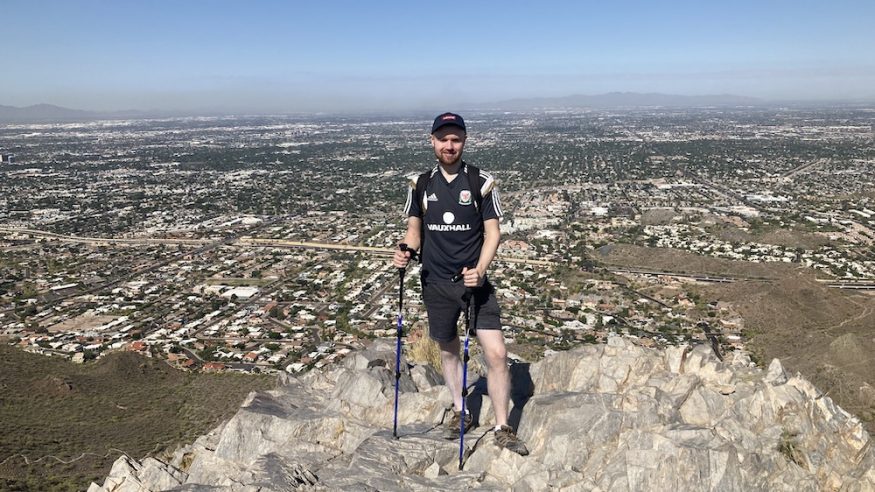 Rhys Hughes (MA 2017) graduated with a master's in Welsh and Celtic Studies, before embarking on a PhD in Arizona, USA. Having grown up in Wales, he shares his memories of the National Eisteddfod and how he stays connected to his Welsh roots whilst far from home.
If you're heading to the 2023 National Eisteddfod, come and connect with your fellow alumni at the Cardiff University Alumni Reception on Thursday 10 August. If you're interested in attending, or would like to volunteer as one of our event hosts, register now or email alumni@cardiff.ac.uk for further details.
Having graduated from Cardiff University in 2017, I stepped into the world of professional translation, where I worked for about five years. The translation posts I held were an opportunity to put into practice the Welsh language skills I had honed during my academic studies. But after a while, I was ready for another challenge. I had always wanted to complete a PhD degree, but rather than stay in Wales or Britain to do so, I wanted to push myself further and live abroad. It was a long and hard process, but I managed to get accepted onto a PhD programme in Arizona, USA. I've just completed my second year and I'm looking forward to starting my personal research next year. My academic interests include language planning in the context of minority languages, with a focus on the Welsh language.
The National Eisteddfod has been a big part of my life since I was very young. I remember competing with different choirs as a child and wandering around the field with the family regularly. When I was a teenager, it was an opportunity for me to camp in Maes B with friends and have fun listening to live music. It is a unique event and there is nothing like it anywhere else.
Since moving abroad to the USA, I miss a close-knit Welsh community more than ever. I rarely get a chance to speak the language in Arizona and that often worries me. Nevertheless, living so far from home makes me appreciate the Welsh language and Welsh culture more than ever. My pride for the language and culture is stronger and I love teaching Americans and people from other countries who study here about Wales and the Welsh language.
The Eisteddfod is an integral part of our Welsh culture and the fact that the festival is going from strength to strength and attracting so many visitors and competitors is a source of hope for the Welsh language. Even due to external challenges such as the pandemic, the Eisteddfod has not lost any of its appeal and I know that its location this year in the Llŷn Peninsula will attract people from all over the country and beyond.
Unfortunately, due to work commitments with the university in Arizona, I will not be able to attend this year. That is a great sin especially as it was in the Llangybi area – a stone's throw from Boduan – that I grew up. Although I won't be there, I'm looking forward to hearing about my friends' adventures and I'll certainly be following the competition from far away in Arizona.
Without a doubt, the Eisteddfod is a haven for Welsh speakers of all levels and abilities. It is a festival with a touch of entertainment, literature, traditions, and important socialising and networking opportunities. Writing about the Eisteddfod and reminiscing, it makes me wonder if it would be possible to organize an Eisteddfod in Arizona before finishing my studies here. We shall see!
We've introduced 'For Alumni, By Alumni', because who knows our alumni community better than…you guessed it, you! We'd love to hear from you with ideas for articles or online events that you're interested in, you can give insight on, or maybe you ARE the story! Check out our full line-up of articles and watch back our live events playlist.