Supporting life-changing cancer research – Mollie Lewis (BSc 2022)
8 March 2023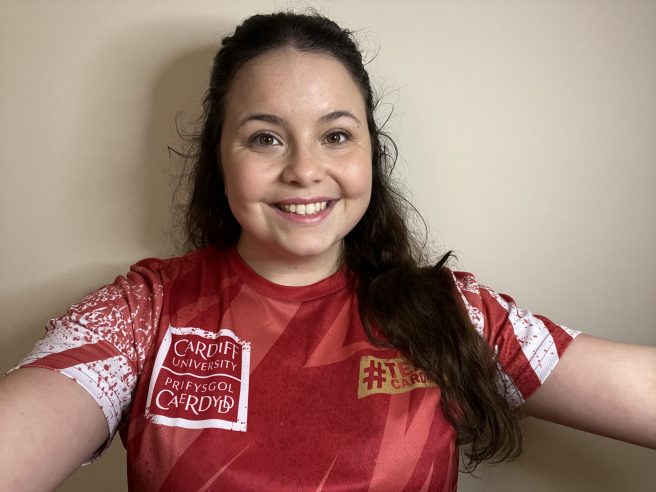 Mollie Lewis (BSc 2022) is running the Cardiff Half Marathon in October to help raise funds for the life-changing cancer research carried out at Cardiff University. As it's her first time running a half marathon, Mollie shares her insights on getting into running as well as the amazing support she has received from family, friends and #TeamCardiff.

I have always wanted to challenge myself by signing up to a half marathon, but I have never had the courage. When I saw that I could run as part of TeamCardiff while fundraising for a great cause, I had to join.
In 2021 my mother was diagnosed with breast cancer. Her diagnosis came as a shock to our whole family. The months following her diagnosis involved operations, treatments, and long-term medication.
Thankfully, because of amazing research into cancer, my mother was declared cancer free in 2022. February 2023 marks a whole year of her being cancer free, which is a great motivation for me to put on my running shoes and fundraise for research into life-changing illnesses and treatments.
Yes, this is my very first running challenge and it's not an easy one. I only started running after signing up to the half marathon.and before that, I'd never even attempted 5K, and even that seemed far! The idea of being able to train for this challenge, while raising money for such great research, is the best motivation I could possibly ask for.
I started training at the beginning of January. I decided that the best way to get into training was to start it at the beginning of the new year, in the hope of creating a new habit. It's not been easy, especially with winter nights being dark and cold. Luckily, as the weeks go by, I am starting to feel more comfortable and confident in my running ability.
It is also a great opportunity to step away from technology as my job involves spending hours working on my computer and I often go straight home to stare at my phone or television. Running has driven me to find time to take a break away from my screen and has almost forced me to take a much-needed break from the digital world.
Everybody has been incredibly supportive. My family have been very encouraging, despite being very shocked that I had signed up. My colleagues have been very positive and have all the confidence in me.
Many of them have run for #TeamCardiff before, so they have been great at giving me training support and advice. It is handy to know all of the things that you should and shouldn't do on the run up (excuse the pun) to the big day.
The support from Cardiff University and #TeamCardiff has been lovely. Training tips and preparation help is always welcome. It's great to receive a tailored #TeamCardiff newsletter, with motivating words and fundraising advice.
I am looking forward to seeing Cardiff on race day full of people and energy. It's lovely to see the city I live and work in, full of cheer and laughter. It is also a great way to see the Cardiff community come together to celebrate the achievements of everyone involved. And I'm, of course, looking forward to finishing the run!
You can support Mollie's fundraising through her JustGiving page. Interested in running Cardiff Half Marathon in 2023? Apply for one our remaining places.
#TeamCardiff fundraising supports Cardiff University's neuroscience and mental health, and cancer research. By supporting the next generation of researchers, you can help accelerate life-changing discoveries to improve prevention, diagnosis, and treatment for people living with a wide range of conditions.