Events internship inspires future career – Rosy Turner (BSc 2021)
20 February 2023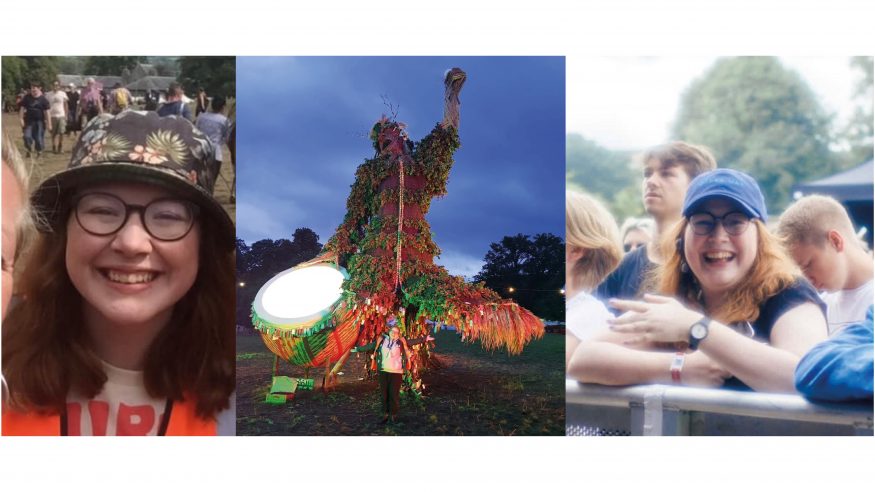 In summer 2021, Rosy Turner (BSc 2021) completed a paid internship with Green Man Festival through Cardiff University's long-running partnership programme. She gained valuable experience in the events industry and has subsequently secured a permanent role with Green Man. Rosy explains what she gained from the placement and how it's helped her on the path to her perfect career.
I was always passionate about the arts but hadn't considered it as a career until I saw the advert for the Green Man internships. I was in my final year studying Biological Sciences when I applied, after previously attending the festival as a steward. It was an incredible opportunity as there was no need for extensive previous experience.
I undertook the Guestlist and Accreditation 6-week internship which involved allocating tickets and forms to staff, crew, traders, and artists. In the run up to the festival I was responsible for reassigning tickets to the touring party of bands when changes in line-up occurred, as well as liaising with various traders to ensure their health and safety forms were up to date.
This was my first job after university and allowed me to gain real-world experience in an industry I hadn't worked in before. I learnt how to work in a team, how to adapt to the needs of others, as well as generally learning as much as I could about the festival and events industry.
I gained so much confidence in my own skills because I was given a variety of responsibilities. My placement at Green Man allowed me to improve upon and gain a multitude of transferable skills that have helped me in my career journey.
Working at Green Man was the single most impactful and fulfilling experience of my life. All the members of the team were so incredibly welcoming, thoughtful, and caring. They really have guided me on a lifelong journey into events. Every single person on the team allowed me to thrive and the friendships I gained at Green Man will be with me for life.
I now work full time in the events industry and that's due to the work I did during my internship, and the work the Green Man team put into mentoring me. The skills I gained led me to the role of Operations Intern at Cheltenham Festivals, and after that I was lucky enough to be considered for the Executive Assistant role which I currently hold at Green Man.
Internships are so valuable for students' careers. They're a great way to network and gain experience in a field that you are interested in. If a Cardiff University alum or business were considering offering an internship to a student, they definitely should! Internships give students real world experience that can set them up for a career in any sector. You are sure to be met with a whole host of enthusiastic applicants!
Find out how you can support Cardiff students gain valuable, real-life work experience through Internships by offering a placement, or making a gift.