The 30(ish) winners have been chosen – special preview
4 October 2022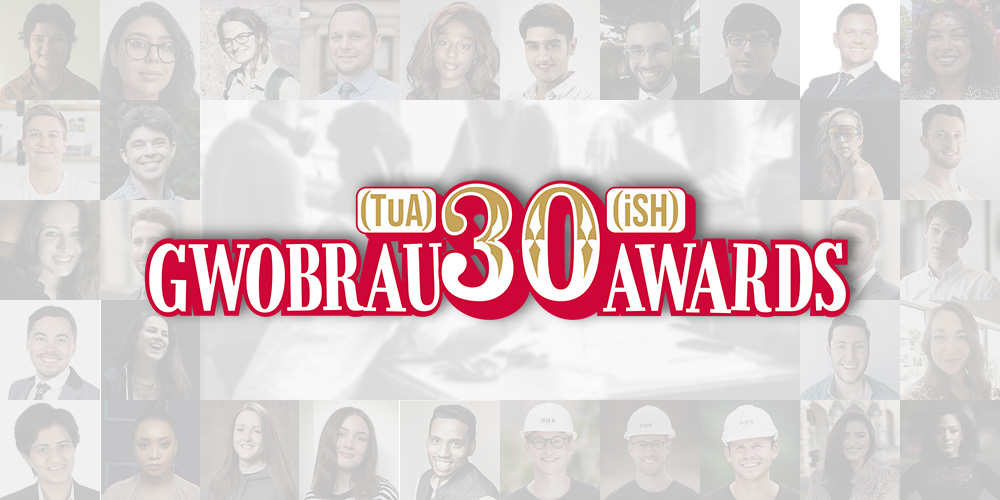 Following an enormous response by the alumni community, Barry Sullivan, Head of Alumni Relations, gives us a teaser for what's happening next, what to look out for on the list, and maybe even a hint at who's in the running for the 30(ish) Awards.
We asked. And you responded. Boy, did we underestimate how many of you would respond! 283 of you to be exact – or 280(ish) if we're staying on brand – submitted nominations. We know our alumni are out there making this world a better place, but there were so many amazing new discoveries for us, and we can't wait to share some of these stories with you.
Truth be told, the panel could have filled all the places with alumni who have been working tirelessly on the front line during the pandemic. Or just with innovative entrepreneurs. Don't get us wrong – there are plenty of them on the list and receiving an award. But we'll also be celebrating the rule-breakers and game-changers whose nominations shone through. Campaigners, community organisers, advocates, employers, influencers, and mixologists*, to name just a few.
We're now making sure that we can do each winner's story justice when we publish the 30(ish) list, so watch out for more in October! To help you find the stories that matter to you we'll be breaking them down into some groups on the list:
Community activist
Wales to the World
Equity activist
Environmental activist
Journalism and Media
Innovation
Entrepreneurship
Hopefully you'll find some inspiration for your own work, or even for next years' awards! After such a positive reaction from our community we're fairly confident that 30(ish) will be returning in the future. We've also listened to feedback and will be thinking about how we can celebrate stories from right across the alumni scene.
The 30(ish) winners that we'll be celebrating in October have already been notified and invited back for our special awards event. We'll be reporting back afterwards to share stories and pictures that we hope will make you as proud to be Cardiff-made as we are.
Hosted by fellow alumnus Pat Younge (BSc 1987), and emceed by alumna Babita Sharma (BA 1998), this will be a night of celebration for our pioneering Cardiff alumni.
Babita Sharma (BA 1998) graduated from JOMEC with a BA in Journalism, Film and Broadcasting and has covered major news events for the BBC for more than two decades as a Chief News Presenter and documentarian. Babita is also an award-winning author and has curated several cultural projects promoting diversity across the UK.
Pat Younge (BSc 1987) graduated from EARTH with a BSc in Mining Geology – but it was in media where he built a successful career, which included stints as the President of The Travel Channel (USA), and the Chief Creative Officer at the BBC, before founding Cardiff Productions Ltd. Pat is also the current Chair of Council, the governing body of Cardiff University.
Don't feel 30(ish)? Fear not, there's already lots of other ways to get involved as an alum. You can contribute to the conversation by pitching a For Alumni, By Alumni piece. You can support prospective and current students by mentoring or volunteering. Or, you can offer to give our newest graduates advice on our networking platform Cardiff Connected.
*yes, you've read that right: "mixologist" mix-ol-o-gist | noun | a person who is skilled at mixing cocktails and other drinks