#TeamCardiff fundraisers take on Cardiff Half Marathon
3 October 2022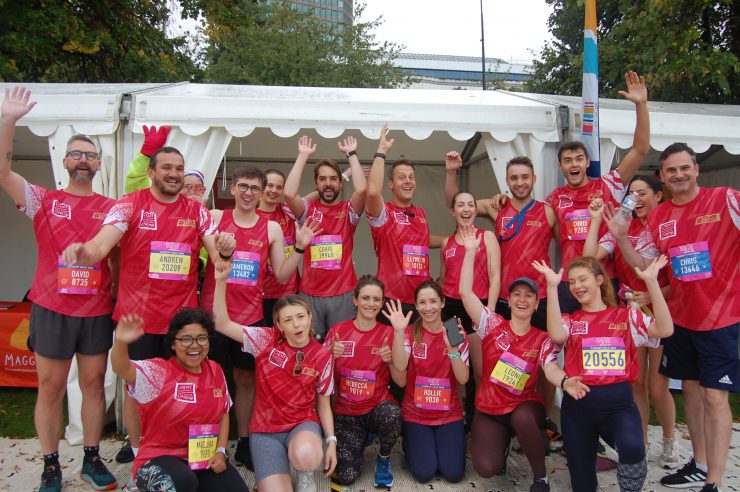 On Sunday 2 October, around 70 alumni, students and staff ran the Cardiff Half Marathon to raise money for Cardiff University research as part of #TeamCardiff. They're aiming to raise £25,000 for neuroscience and mental health, and cancer research.
The second Cardiff Half Marathon to take place in 2022, saw thousands of runners, once again take to the streets to cover 13.1 miles, taking in some of the city's most iconic landmarks. At mile 8, our runners were greeted by our Cheer Station – where supporters and Dylan the Dragon cheered them on.
Laura Stephenson (BA 2008) ran in memory of her friend Areesha (Reesh). She's raising money for cancer research and was inspired by her friend's strength in the face of a devastating diagnosis, and 'say yes to everything' attitude.
In March 2021, my ambitious, confident and effortlessly funny friend Reesh, was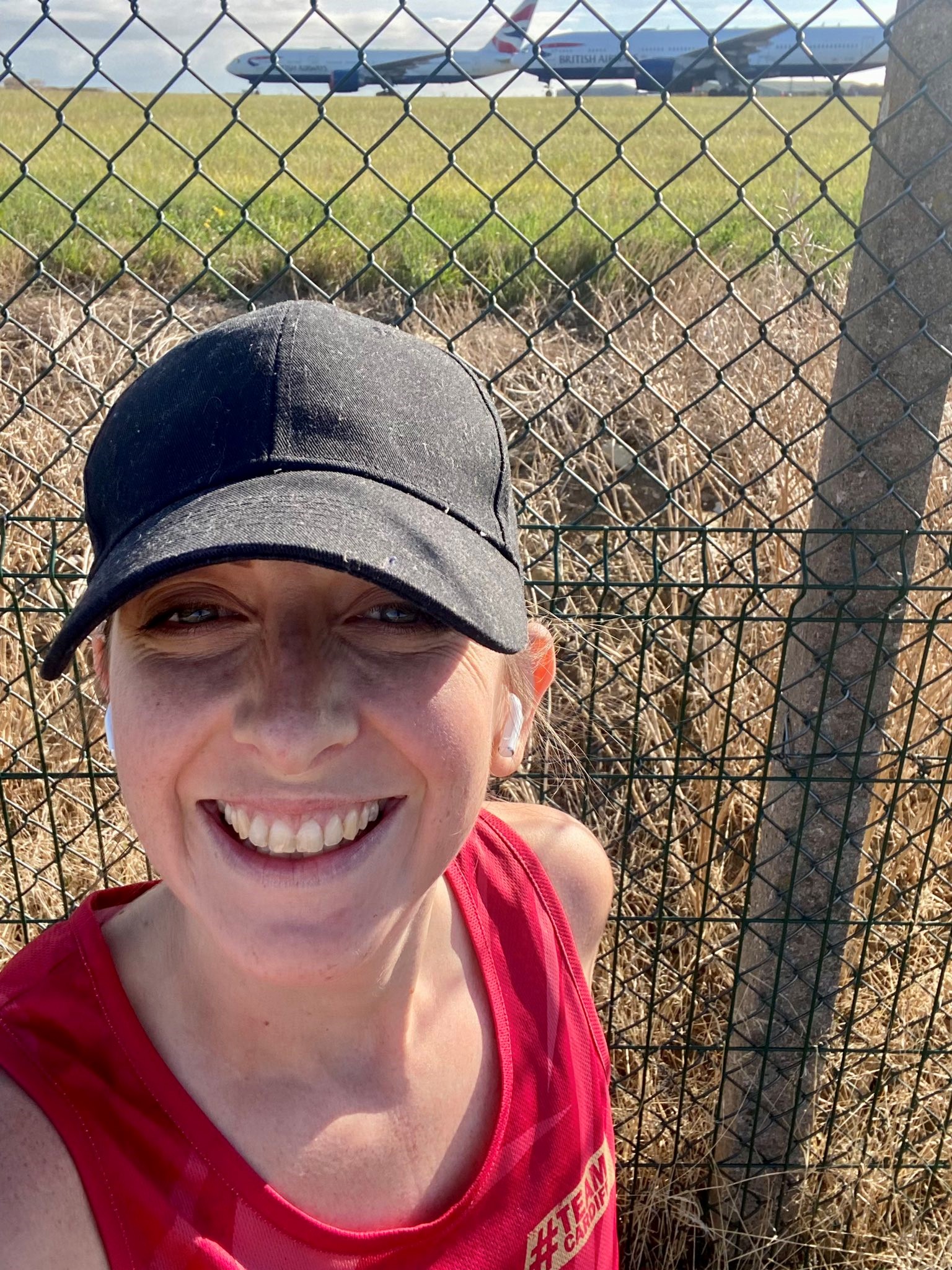 diagnosed with a brain tumour. She believed that the best way to face treatment was to think positively. And, outwardly at least, she did. She didn't want to be defined by her illness, so we, her friends made sure she wasn't.
Sadly, on 19 February 2022, Reesh passed away. I've never felt a loss like it. Inspired by her 'say yes to everything' attitude and buoyed by the reminder of how short life is, I signed up for the Half Marathon with #TeamCardiff to raise money for cancer research. I've been blown away by the generosity of those who've donated already. It adds extra fuel to my fire on those days where I don't fancy lacing up my trainers.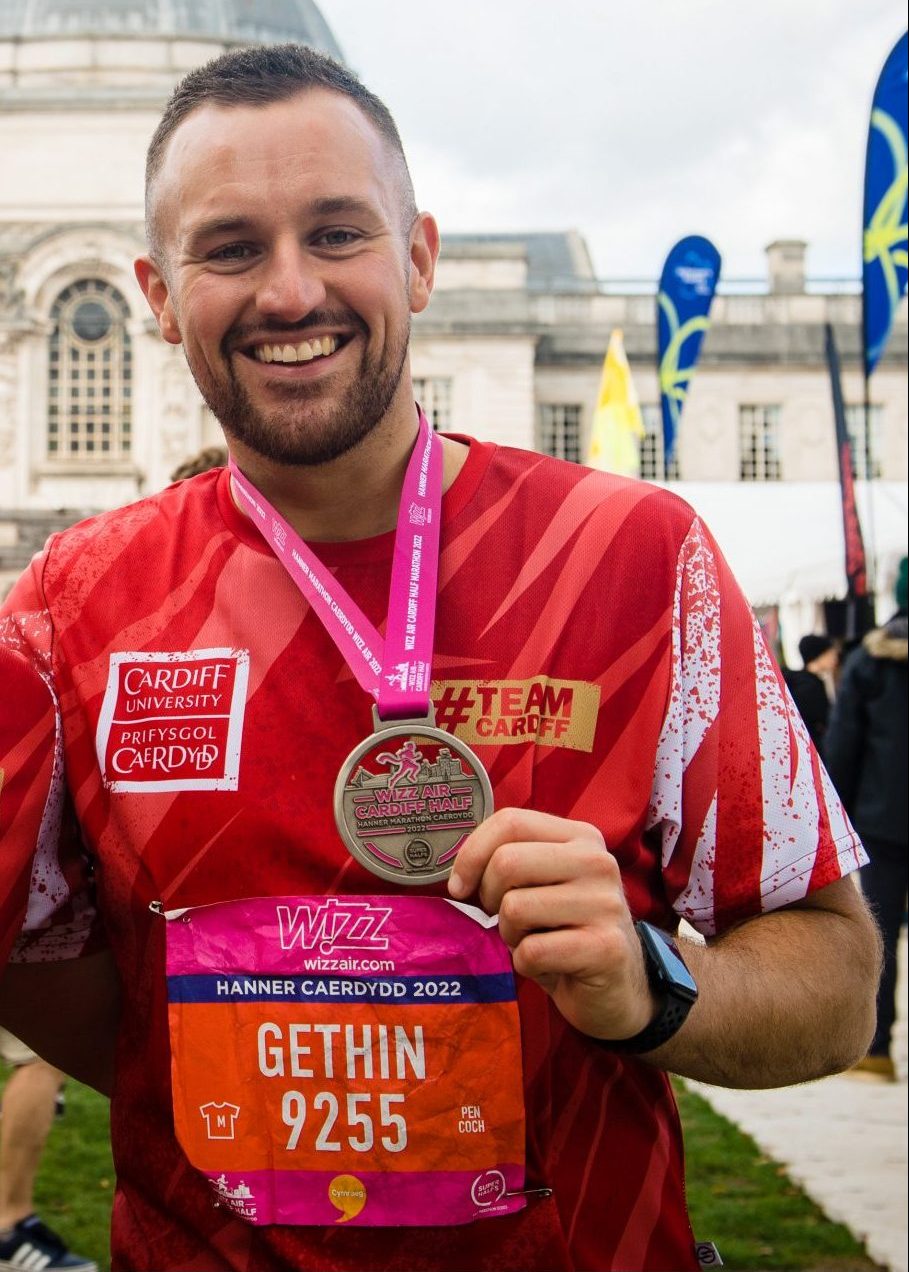 Gethin Bennett (LLB 2015, PgDip 2016) ran the Cardiff Half Marathon in October in memory of his father, who he lost to depression in 2007.
We sadly lost my dad to depression in 2007 when I was 14 and, over the last few years, I've tried to raise money where I can, to support mental health charities and organisations. Being a Cardiff University alumnus, I remember receiving the e-mail about the Half Marathon and seeing that I could fundraise towards mental health research. So it made sense that I signed up and supported my old stomping-ground! I really love the buzz and atmosphere of the day.
Chris Jones (BScEcon 1999) ran in memory of his colleague Kevin Leonard.
I had the honour of being Kevin's line manager for many years. He was, without a doubt, the nicest person I've ever met. A fellow Bluebird and Wales football fanatic, he was also a dedicated and accomplished runner. He was a massive fan of the Cardiff Half Marathon and first cajoled me into running it in 2016. He was a passionate member of #TeamCardiff and raised over £600 for Cardiff University research in the 2018 race. Before we lost him, I promised I'd run it again – it's now time to honour my promise.
You can help #TeamCardiff to reach their fundraising target and raise £25,000 to support Cardiff University's cancer research, and neuroscience and mental health research. By supporting the next generation of researchers, you can help accelerate life-changing discoveries to improve prevention, diagnosis, and treatment for people living with a wide range of conditions.
Support #TeamCardiff's fundraising with a donation
Interested in running Cardiff Half Marathon with #TeamCardiff for Cardiff University in 2023? Apply to join #TeamCardiff.