My flash mentoring experience – Esther Morris (BA 2018)
22 September 2022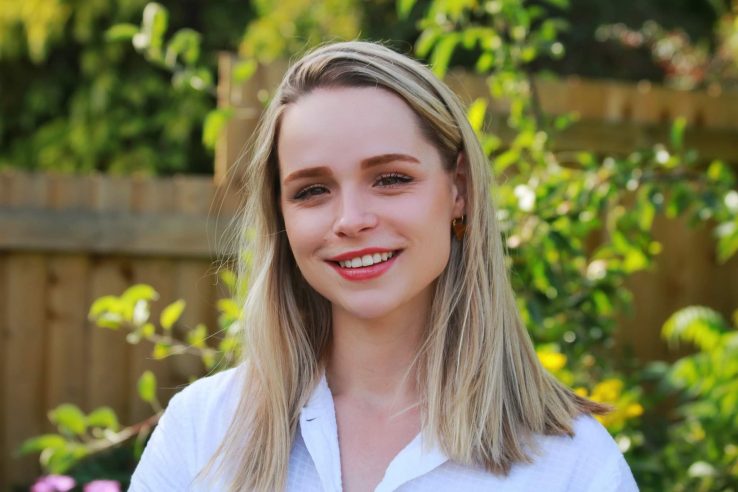 In March, Esther Morris (BA 2018) a Senior Account Executive at Nelson Bostock Ultd, took part in our annual flash mentoring scheme for Cardiff's alumnae – Womentoring. Esther was matched with fellow alumna Rebecca Harris (BA 2008), Senior Commercial Manager at The Walt Disney Company. Esther shares her experiences of the programme and the benefits she found from being matched with a mentor.

Each spring we bring together carefully selected successful Cardiff alumnae to share their valuable experience and expertise with early career mentees. By nurturing these connections, we're helping to empower female Cardiff graduates to reach their full potential.
What made you apply for the WOMentoring flash mentoring scheme?
I always like to take the opportunity to learn from others, whether that's through attending events and webinars or even just browsing platforms like LinkedIn. In particular though, as someone relatively near the start of their career, WOMentoring seemed like an amazing opportunity to speak directly with a successful female professional. I felt that it would be especially valuable to learn from a woman in business who could also take an objective stance when offering guidance around my career, so it seemed like a really fantastic opportunity.
Can you tell us a little bit about what the mentoring involved?

My mentor and I were assigned to one another through the scheme and after speaking briefly over email, we had an introductory video call where we discussed what we were hoping to get out of the programme. We talked about where I would like my career to go both in the long and short term and established that we'd like to have an ongoing relationship. It's great to know that as I progress through my career I'll have someone I can go to with queries and concerns, and hopefully we can both learn from each other going forwards.
What were the key insights you gained during WOMentoring?
One of the key things I took from WOMentoring was to make sure you're consciously self-reflecting and asking yourself questions about why you might feel a certain way – for example, asking yourself what's stopping you from taking the next step in your career or from exploring a new area. I think one of the great things about mentoring is that you not only have someone else to learn from, but you're also encouraged to reflect in a way you perhaps might not have considered otherwise.
How do you think mentoring will help your career in future?

Mentoring has helped me to clarify my own thoughts and feelings about my career and to take an active role in its progression. Having someone outside of your work environment who can support, encourage and advise you is a real luxury, and I'm really grateful that I'll be able to carry that forward as my career develops. I was also fortunate enough to be promoted relatively soon after my first mentoring session, so I was able to keep my mentor's advice in mind and have confidence in asking questions and discussing my progression during my review process. This is a skill that I'm now certain I'll carry with me throughout my career.
Would you recommend flash mentoring to other alumni?
Definitely! It's really down to you how much you choose to put into it, so in that sense it's very low-pressure, but as was the case with my mentor, it could be something that leads to a hugely beneficial ongoing relationship.
What would you say to a Cardiff University alum who was thinking of signing up to be a mentor?
I would certainly encourage anyone who feels they can offer support to sign up. I'd love to think that I could be a mentor on the scheme one day! It's a great opportunity to help someone at the start of their career and I really believe both parties can ultimately learn a lot from each other.
We're so grateful to all our mentors who gave up their time to support the next generation of female CEOs, directors, presidents and partners, by sharing their expertise and experience.
If you're a Cardiff alum keen to find, or become a mentor for a fellow graduate, our alumni networking platform Cardiff Connected helps you find the right match. It's quick and easy to register, and you can filter by industry and location to search those offering or asking for help.
There are also lots of other ways you can volunteer your time and expertise to help inspire and support the next generation of Cardiff University students and alumni.