Deck the Halls – Cardiff's alumni community send messages of support
4 December 2020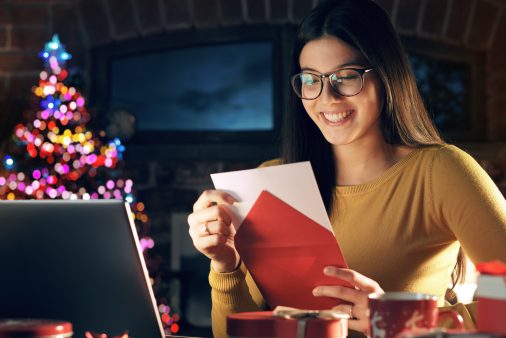 Cardiff's alumni community have reached out and sent messages of support to students in Residences. Read some of the wonderful messages that were sent.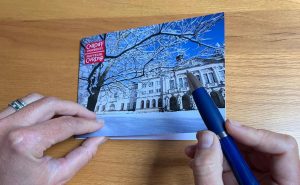 It's been an extremely difficult term, especially for first years so Cardiff University alumni were asked to share their messages of support and solidarity, to bring some festive cheer at a difficult time.
The community responded and over 150 alumni submitted well-wishes for the current residents of the Student Hall flats they once lived in – if they could remember! The messages were hand-written into Christmas cards and safely delivered to Halls by the Residence Life team last week.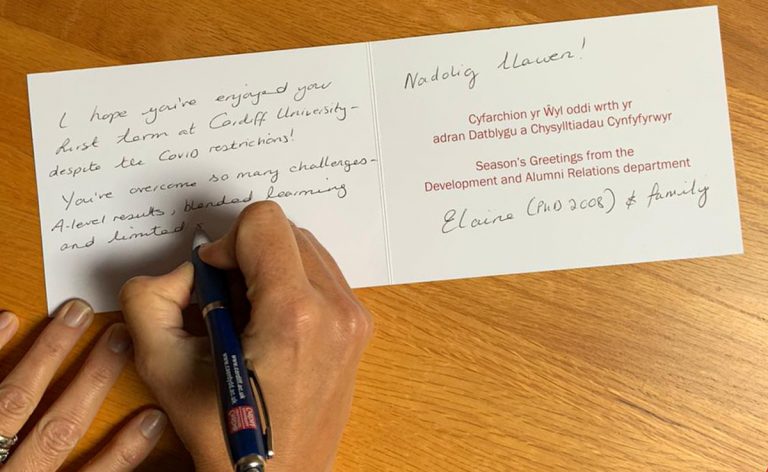 Alumni old and new shared their experiences, words of wisdom and Christmas wishes. Here are just a few of the wonderful messages that were sent.
"We wish you a very happy Christmas and holiday season. We know that this past year has been very difficult for you, and we hope that the coming year brings more certain times for you and your family. Sending all our love and good wishes for better days ahead."
Syed Muaaz-Us-Salam (BEng 2016) University Hall
"Enjoy the Christmas break. Keep going – things are hard, but you'll come out so much stronger!"
Charlotte Puttock (BSc 2011) Senghennydd Court.
"Nadolig Llawen! You've done it! You've completed your first term of studies at Cardiff University. I'm sure it's been strange, exciting, nerve-wracking, invigorating (the list could go on!), but I hope you're incredibly proud of yourself. This may not have been the opener to University life (and Cardiff life) that you were looking for, but this will be one of those tales you talk about in future years and will show the challenges you've overcome to further your education and create new memories. I hope your Christmas period is safe and happy and here's to an amazing 2021!"
Delyth Jones (BA 2003) Talybont South
"Hello! I'm so, so sorry that your first term hasn't been what you've would have hoped and expected. BUT I absolutely know how brilliant Cardiff Uni is and despite all this you WILL have your time with the rugby, the beach, the City, the Taf, Ramones and everything else will be waiting for you. And, most of all, your best friends for life. Take care."
Juliet Thomas (LLB 1996) University Hall
"Happy Christmas! I was one of the first residents of Talybont Court when it first opened and still have friends from my time living there. I am sure the first semester has been quite different from what you expected, and what you looked forward to, but I hope you can still enjoy the view out over Cardiff and will also make some lifelong friends. Stay safe!"
Cassandra Rogers (BSc 2008) Talybont Court
"You can do this! My own children at uni too. In uncertain times, we are all here to support you. Just ask us if you need to. Have a great Christmas or break. With best wishes"
Jo Taylor (BMus 1990) Aberdare Hall
"I know this has been a tough year and not what you might have hoped from your university life. However, hang in there. Together we will overcome COVID-19 and I know your resilience will pay dividends in the years ahead. I wish you a very happy Christmas. I hope that you are able to spend the holidays with those closest to you. I am very confident that 2021 will be better and I am hopeful that you will start to enjoy student life as it should be."
Quentin Sandifer (MBBCh 1985)
"Hi! I'm sorry things have been tough this year, and I hope you're able to still enjoy your first few months at Cardiff. It really is an amazing place to live and study, and I have some wonderful memories. There were tricky times too, and that's ok – don't be afraid to ask for help, from friends, your course, or student support. Happy holidays (whichever you celebrate), and I hope you have a great 2021."
Rosanna (BA 2019) Cartwright Court
Feedback from students has been positive with some even reaching out to thank the alum who'd sent their message, connecting over shared memories. If you received a card and would like to thank the alum, tweet your message to @Cardiffalumni with #DeckTheHalls or email alumni@cardiff.ac.uk.