Unusual career paths and creative outlets – For Alumni, By Alumni
17 November 2020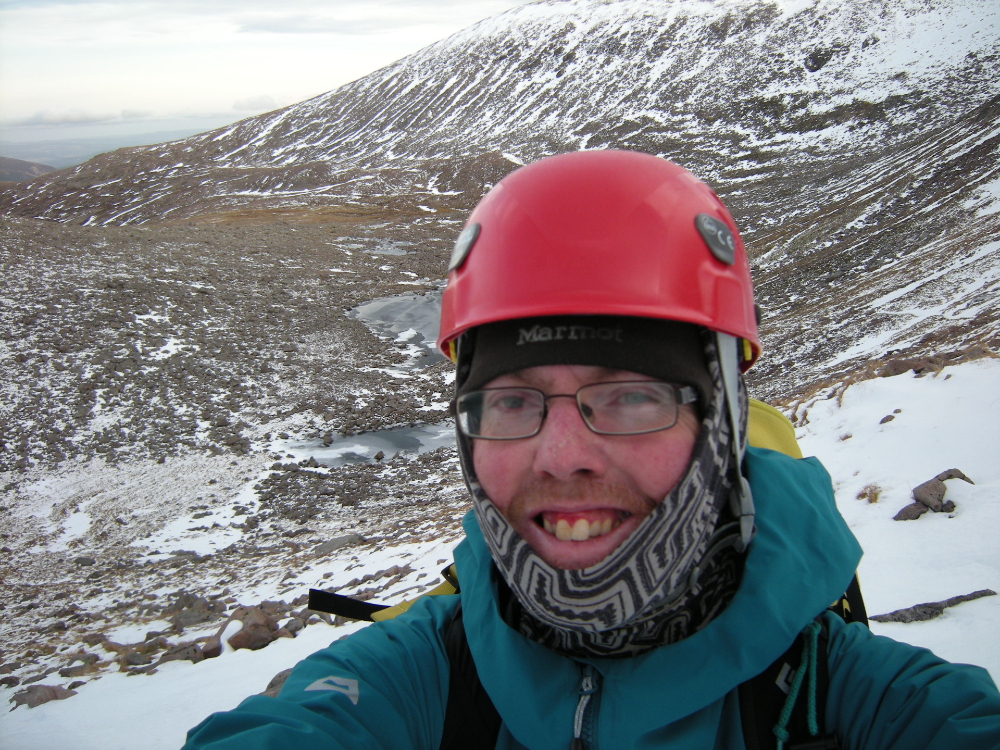 James Orpwood (BSc 2002, PhD 2006) has gone from fisheries scientist to mountaineer, conquering tremendous heights and tackling a new career path. He's also about to publish his first book, written during many lockdown hours as a result of the COVID-19 pandemic. James describes his personal career journey and how he made the most out of his spare time…
I remember my years at Cardiff University fondly. Arriving as a fresh-faced undergraduate in the autumn of 1999, I spent three very happy years working towards my first degree. As someone who had not been too fond of school, I surprised myself by loving the rich environment of learning and research and was inspired by the most motivating academics I could have ever wished to meet.
The early years of my life were dominated by fish and my childhood was spent paddling in New Forest streams searching for bullheads and minnows. So it was fortunate that, much later as a young man, my interests in freshwater ecology, fish biology and statistics blended perfectly in my final year of studies. I graduated in 2002, ostensibly with a BSc in Ecology and Environmental Management, but weighted favourably towards all things fishy! Happily, my association with Cardiff University (and fish) continued and I went on to complete a PhD (2002-2005) and my first post-doc (2005-2007) before moving on to another university and then the public sector.
A major change happened at the start of my PhD – I moved to Scotland as that's where my day-to-day research work was carried out. I have been there ever since!
Exploring Scotland during my time off (if there is such a thing during a PhD) I became completely captivated by the country's mountains. Foreign climbing trips to Morocco, Nepal, Bolivia and Iceland did little to dampen my enthusiasm for fun in high places. Eventually, despite a promising scientific career, I took the decision to retrain so I could work professionally in the mountains of Scotland.
Many years of focussed and determined hard work followed, enabling a complete change of direction in my working life, and supported throughout by my wife who I met on a climbing trip in the Himalayas.
I gained enormous pleasure from working year-round in Scotland's mountains, leading guided hill walking and mountain skills training courses through my own small business, as well as working for other outdoor activity and adventure holiday providers.
It was all going well, until …
The worldwide pandemic of COVID-19 needs little introduction, having dominated the media for many months, affecting daily life around the world in a way not experienced since WWII and, tragically, leaving many thousands of people mourning the death of a loved one.
A temporary suspension of all my work began in mid-March 2020 due to the COVID-19 outbreak and related restrictions on movement. Indeed, even before the enforced lockdown, many outdoor professionals, myself included, had already cancelled their work for the foreseeable future. We did not want to encourage folk to travel to the Highlands for fear of spreading the virus and putting extra pressure on the relatively limited NHS resources in our rural communities. My summer season's work programme evaporated overnight.
So, what does a scientist-turned-mountaineer do during lockdown? I turned creative.
I noticed that a friend of mine from fishing days had taken to social media, regaling tales of his interesting life. It occurred to me that I could do the same. However, the volume of my tale soon made the social media outlet seem unrealistic.
My creative streak resulted in my first book, A Quest For Fulfilment, which has now been published. I never thought that I would go from researcher to mountaineer, to author.
I had often contemplated writing the tale of my career change, hoping it might inspire someone, somewhere, to pursue their dream, whatever that might be.
James' new book, A Quest For Fulfilment, is out now and you can find out more about his mountaineering endeavours from his website.


Tell us what matters to you
We've introduced 'For Alumni, By Alumni', because who knows our alumni community better than…you guessed it, you! We'd love to hear from you with ideas for articles or online events that you're interested in, you can give insight on, or maybe you ARE the story! Check out our full line-up of articles and watch back our live events playlist.