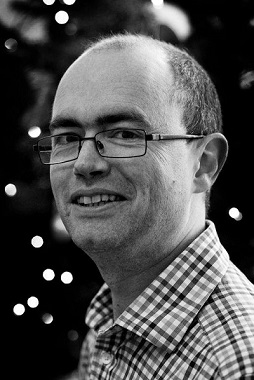 Playing, singing, recording and rehearsing were all elements of BMus Music that Thomas Breeze (BMus 2001) relished while studying at the School of Music. His passion for music has continued and he is now Programme Leader, PGCE Secondary Music at Cardiff Metropolitan University.
When I was in the sixth form I was lucky enough to be accepted as a member of both the National Youth Choir and National Youth Orchestra of Wales. During our summer courses we visited Cardiff University several times for rehearsals, concerts and recordings, and I was really taken with the friendly atmosphere and the sense that there was a lot going on. My friends in the 'Nash' who were already at university told me how friendly the School of Music was, so I was sold!
As a music student I had the opportunity to do one or two concerts a week during term time in the University Concert Hall as well as in prestigious venues such as City Hall and St David's Hall.
The degree I did was the perfect mix of academic study and practical musicianship, as well as teaching me the teamwork and resilience skills you need in the tough job that is teaching.
After graduating I went straight into the MA in Performance Studies, when I had the unbelievable good fortune to study with the renowned musicologist Professor Peter Williams. It was quite something to have someone literally world-famous in his field walking round the department.
I now run the PGCE Secondary Music course at Cardiff Metropolitan University – a course that has been a traditional next step for lots of Cardiff University music graduates. This is the course you do if you want to become a secondary music teacher. It lasts about nine months and is really intense.
My days are varied, and are made up of a mixture of teaching, visiting students on their placements in secondary schools around south Wales, and inevitably quite a lot of marking and admin! Needless to say, my favourite bits are teaching and getting to visit music departments all over the place and see my students working with young people in the classroom.
As a music teacher, I used the subject knowledge I gained at Cardiff every single day of my working life.
To future students I would say, grab every opportunity with both hands – especially opportunities to perform, try out new music and have interesting experiences. You never know what you'll find out you love doing! I was playing, singing, recording, broadcasting, rehearsing, and even (shock horror) doing the occasional assignment all day every day – but nobody forces you to take opportunities, and once they're gone, they're gone.