Kit Denison (BMus 2013)
28 March 2018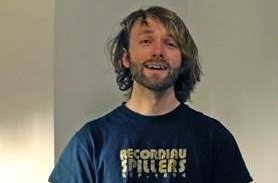 Kit Denison (BMus 2013) works as an Assistant Producer for the internationally renowned performance company, Clod Ensemble who are known for their work which takes place in traditional theatre spaces, festivals, galleries and found and public spaces.
Unlike other universities I was considering, Cardiff University's BMus Music allowed me to develop both my composition and performance interests throughout the full course, rather than having to specialise after the first year.
Hearing my compositions played live was a pretty amazing experience; asking absurdly talented violinists to play with teaspoons and writing nonsensical songs entirely in palindromes were particular highlights for me.
After attending a careers advice session, I decided to study an MA in Arts Management and subsequently worked at the Wales Millennium Centre in the box office.
I joined Fizzi Events as an administrator, promoting gigs and managing corporate events. I was then unemployed for a few months (it's important to acknowledge career dips as well as peaks..!), and stayed afloat by teaching guitar and working on a casual basis with the National Dance Company Wales. In the final few months of living in Cardiff, I worked at Spillers Records as their Sales & Marketing Assistant.
I'm now a producer for the interdisciplinary performance company Clod Ensemble. We're a small team, which means there isn't really a normal day.
I could be planning a national tour, programming workshops, writing funding applications, designing marketing materials… the list goes on.
I absolutely recommend working with small companies for this reason!
Being at Cardiff University encouraged me to confidently do things I knew nothing about.
If I could pass on any advice I would tell new students to always be present and involved in the wonderful things happening in Cardiff: volunteer at one of the many arts centres, contribute to musical life outside of University, as well as making use of the opportunities within it.