Your last-minute guide to Valentine's Day in Cardiff
14 February 2018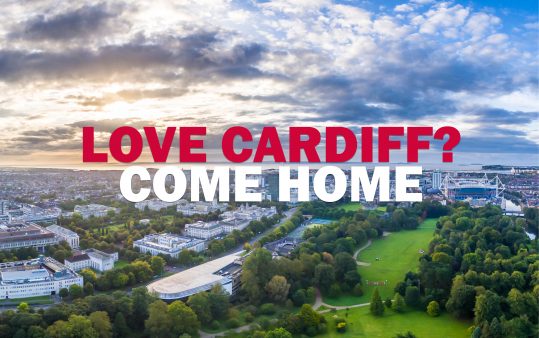 The shortest month is upon us and it comprises a disproportionate number of seasonal highlights: Pancake Day, Chinese New Year, and the Six Nations – they all need celebrating. Oh, and there's the small matter of Valentine's Day.
Drop that batter! Extinguish that firework! Kick that ball into touch! You'd forgotten, hadn't you?
Never fear: there is a small chance that your relationship may be salvageable. Simply bring your beloved back to Cardiff, and follow our guide to the best destinations for a viable Valentine's Day.
[Insert your favourite pub]
Statistically, 109% of Cardiff couples meet at a Cathays-based watering hole. Where better to reaffirm that special connection than where you first met?
Visit Cardiff Castle
If it's good enough for Harry and Meghan, it's good enough for us!
Roath Park Lake
There's little more romantic than rowing across Cardiff's premier Victorian water feature.
Beware, though – love is in the air, but so are hundreds of geese, ducks and seagulls. There's real potential here for a "Mr Darcy moment".
City Road
Sometimes love hurts. Luckily enough, there's an abundance of comfort food available on City Road.
Live la dolce vita
The Italians are great romantics, and Cardiff is a hub for bellissimo food – from the city's famed Café Citta restaurant to Joe's ice cream.
The Wales Millennium Centre
Having avoided some drama of your own with this handy list, take in one of the world class productions in Cardiff Bay.
The Principality Stadium
Wales are at home, and nothing says love like a sought after Six Nations ticket. Remaining home fixtures include Italy (see point 5) and France (even more hopelessly romantic, if possible).
National Museum Wales
Impress your date with your cultural and artistic knowledge, and one of the world's largest collections of Impressionist art. More Gallic amore.
It should be said that some of the items on show are an acquired taste – judge carefully or (like the exhibits) you're history.
Alexandra Gardens
We couldn't leave it off the list. Walk through the grandiose heart of your old University in springtime, and feel the romance blossom.
Barry Island
This is where Gavin and Stacey found love – and Nessa and Smithy too. It could work for you.
The souvenir shop
We're in last minute territory now: you need a present and you need it fast. Heart shaped Welsh cakes and a Lovespoon? Classic.
So there we go. Never say your Cardiff education ends at graduation; you've now got the local knowledge necessary to make an unprecedented success of this Valentines' Day. And if it really doesn't go to plan, Dydd Santes Dwynwen is only eleven months away…
Pob lwc!