Rachel Mason (BMus 2003)
30 November 2017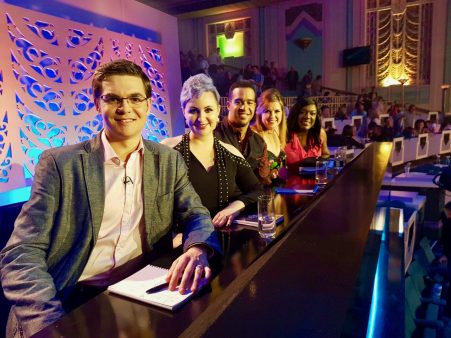 Rachel Mason (BMus 2003) studied her undergraduate degree at the School of Music. She went on to study a Master's before carving out an award-winning career as a songwriter. Most recently, she has been on Sky 1 as one of the judges on Sing: Ultimate A Cappella.
I wanted to study a wide range of musical genres and learn from experienced and knowledgeable lecturers. Cardiff University's BMus Music allowed me to do this and to have wonderful experiences performing at venues including St. David's Hall and Llandaff Cathedral.
I enjoyed a fantastic three years on a great course with wonderful lecturers whose support has helped me reach this point in my career.
My favourite memory is studying popular culture with the late Dr Kenneth Gloag. As a songwriter I always had an interest in the roots and development of pop and rock music and Dr Gloag nurtured this. I went on to gain a Masters in Songwriting from Bath Spa University.
After graduating I began teaching singing privately whilst having a part-time job in Cardiff. I then moved back home to North Somerset to set up my vocal teaching business. Since then I have:
Made two albums
Been Musical Director of Euphoria Show Choir (2010-2015) with whom I performed in New York, Hollywood, the Royal Albert Hall, on television and radio and won two awards
Composed an award-winning anti-bullying song which was adopted by two anti-bullying charities, performed in the UK, USA and Ireland and on television. The lyrics were also printed on a range of American Apparel t-shirts
Acted as judge and mentor for international show choir competitions and national A Cappella contests
Gained a Master's in Songwriting
Begun writing for upcoming and established artists, as well as co-written with some fantastic songwriters, BBC Introducing artists, The Voice alumni and a Canadian Idol star in addition to setting up a singer-songwriter duo with my co-writer called Tucker and Mason.
Become a judge for Sing: Ultimate A Cappella on Sky1 and been nominated for a National Television Award.
The skills I learned at Cardiff eventually led me to collaborate with other songwriters and work with other professional performers to run a variety of different choirs.
I was invited to judge international choral and a cappella contests due to my experience coaching singers and vocal groups, which is why I was chosen to judge Sing: Ultimate A Cappella.
I would describe my time at Cardiff University as Inspiring, challenging, fun, rewarding and empowering and I'd advise future students to work hard and make the most of every opportunity given to you.