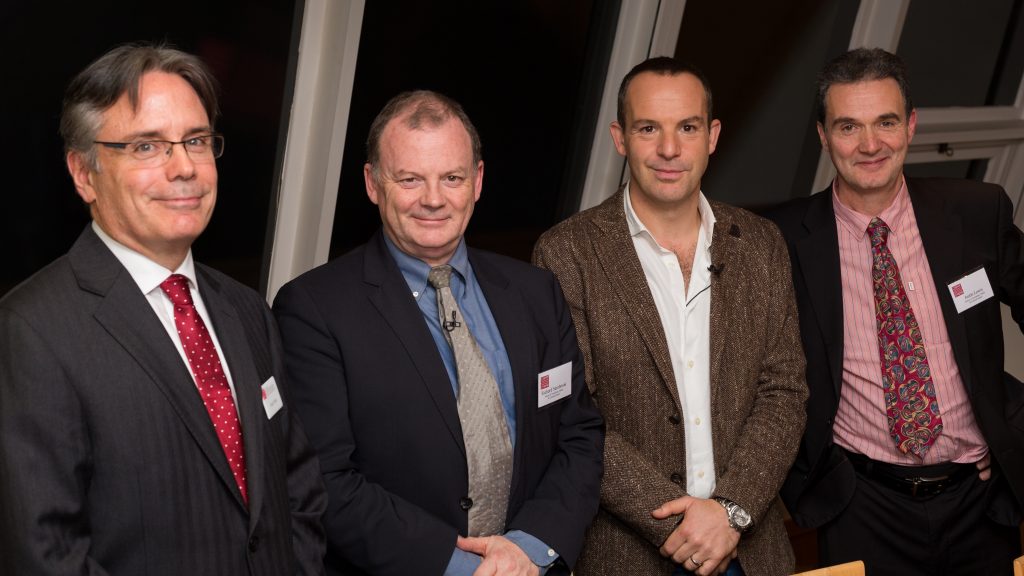 On 23 November 2017, in the prestigious Lincoln Centre in London, Cardiff alumni joined experts from Cardiff's School of Journalism, Media and Cultural Studies (JOMEC) – Britain's oldest journalism school-for a fascinating evening of debate.
The event consisted of a drinks reception, followed by a lively presentation by JOMEC's Professor Richard Sambrook and Professor Justin Lewis. The subject : "What is truth?" Is undisclosed bias in the media contributing to global insecurity?"
Following the presentation, a question and answer session took place to allow audience members to share their thoughts. Joining the speakers was guest panellist Martin Lewis (PgDip1998, Hon 2017), founder of moneysavingexpert.com and self-confessed biased journalist fighting for consumer rights.
The backdrop of the event is one of incredible importance in the current political climate; concepts such as "fake news" and "media bias" are creating an ongoing discussion within both the UK political discourse and across the globe.
Professor Lewis was asked the question: 'why is the subject of media bias and the phenomenon of "Fake News" so important in the current climate?'. He responded saying:
"This rise of social media and the decline of some traditional news outlets has created concerns about people's exposure to misleading information sources. There's also a worry that social media has created a series of Echo chambers, where people simply have their own views – regardless of their veracity  – repeated and confirmed.  Whether this is an entirely new phenomenon is open to question."
The ability for Cardiff University to lead such a wide-ranging discussion and share its valuable insight comes down to JOMEC's incredible success. In 2017, it was ranked number one in the UK by The Guardian[1] for Journalism and Public Relations.  The School combines high quality research, with an invaluable practical aspect, to create well rounded and versatile journalists. With changes in technology allowing anyone to become a journalist, combining both aspects is now more than ever required.
For those who were not able to make it, a video will be available soon showcasing the evening and you can catch-up on the debate via our Storify and live video.
The next event will be on 9 May 2018, Featuring expert speakers from Cardiff's Neuroscience and Mental Health Research Institute.
[1] https://www.theguardian.com/education/ng-interactive/2016/may/23/university-guide-2017-league-table-for-journalism-publishing-and-pr