Examined Life – Professor Nicola Phillips (PhD 2005)
21 November 2017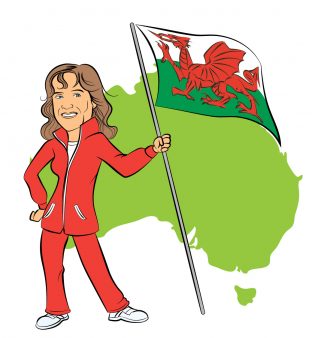 Academic and Chef de Mission for Wales at the 2018 Commonwealth Games.
When I was 15, I spent a few days in the local hospital physiotherapy department. I saw a young woman, probably in her early 20s, with a very high, hind quarter, lower limb amputation, swimming far better than I could with two legs. I thought: I want to be able to help people do that.
I was working locally when Cardiff invited me to join their new MSc in Sports Physiotherapy. I thought joining the team and learning from some excellent physio lecturers who were leaders in their field, doing a PhD and then going back into the sports world as a clinician sounded like a good idea. 17 years later I'm still here, and the MSc has a global reputation.
Each sport has its own idiosyncrasies related to fitness requirements and likely injury. Building a training or a rehabilitation programme for someone is one of the most fun parts of the job. For example, both a runner and a rugby player need to be strong, but for different reasons. One for pushing to run up a hill or finish strongly in a race, the other to sprint or crash into another player without getting hurt. However, the rugby player also needs to build muscle mass, so that they are the heavier and stronger part of that collision.
I've been very lucky to travel to many countries through supporting athletes. My first ever Olympics as a Team GB physio in Barcelona 1992 was pretty special and the fireworks are the Beijing 2008 opening ceremony stand out in my memory. We were watching it from the middle of the arena and I remember the ground shaking as there were so many going off at once and the smell of sulphur and potassium nitrate was so strong.
I will be responsible for just over 300 athletes and officials during their stay in the Gold Coast. The Chef de Mission is the head of delegation and has to make sure that everything runs smoothly: from replacing hand sanitizers in the dining hall, to liaising with security prior to a royal visit or ensuring that athletes are entered into the correct events. The variety is challenging but it's a fantastic experience, and I have an excellent team to support me.
It's not always as glamorous as it sounds! I can think of some countries where I literally saw the airport, some sights from a bus if lucky, then a massage bed in a hotel room or under a stadium – I could be anywhere! I remember shouting at the TV screen in the village (where we see a lot of the Games) when Geraint Thomas won Gold with a punctured bike wheel at Glasgow 2014.
There are a number of sporting highlights that I feel incredibly privileged to have seen first-hand. Despite being very proud to be British, I always had extra pride seeing a Welsh athlete succeed for Britain in an Olympics, so seeing Nicole Cooke MBE (MBA 2015) take the first Team GB gold medal in Beijing was fantastic. At the same games, it was emotional to see David Davies' stretchered away after winning silver in the Open Water 10k.
I am very excited about starting my new role on the Board of UK Anti-Doping. I have seen the effects that competing outside the rules has on everyone, whether it's the other athlete who misses out on a medal, the team-mate who feels guilty by association, the regret in the athlete who has been found doping, as well as their family.
Away from competition, living in Everest Base Camp for almost a month was a privilege and truly awe-inspiring. I was travelling with Richard Parks (Dental Surgery 1997-2000, Hon 2013) on one of his many challenges, which was a very different career highlight. The beauty of the mountains and the wonderful people make that my favourite place to visit.
I love coming home to Wales. Cardiff is a wonderful city, big enough to attract a vibrant mix of people but small enough to get out into the beautiful Welsh countryside easily. I recently showed some international visitors around – who were blown away by the culture and heritage within the capital, alongside stunning coastal and hill scenery within a short driving distance. Sometimes, it takes someone from outside the area to remind us how lucky we are!