My Cardiff is… at the podium in St David's Hall
15 November 2017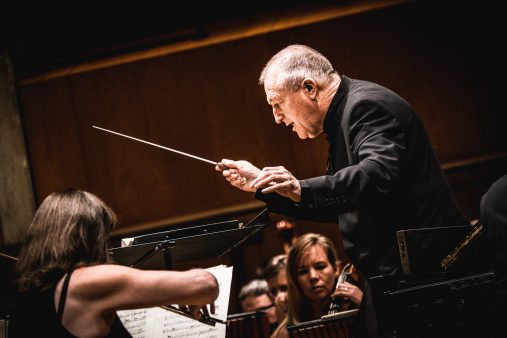 Michael Bell (BMus 1980) is the founder of the Cardiff Philharmonic Orchestra.
On Friday, 15th June next year, Michael Bell will be in St David's Hall, arms aloft, ready to conduct the Cardiff Philharmonic Orchestra (CPO) as they perform Mahler's 3rd symphony. "It's a rare chance to hear one of the most uplifting works ever written," Michael says.
It's a huge undertaking. Mahler believed "a symphony must be like the world, it must contain everything", and the 3rd certainly lives up to that. It's scored for a large orchestra, two choruses and a soloist. But for Michael, it's worth it. "It's Mahler's hymn to nature," he says, "and its sheer majesty can take your breath away."
The CPO has brought the majesty of music to audiences in Cardiff and around the world for the last 35 years. Michael formed the orchestra when he left the University.
"I chose Cardiff because it had a real emphasis on making music," Michael says. "Both the city and the University offered an unparalleled musical environment. I made great friends and when my course finished, there were a lot of us looking for a musical outlet." Encouraged by Alun Hoddinott, then Head of Cardiff's School of Music, Michael suggested a one-off charity concert in St David's Cathedral.
"I was so nervous I thought I was going to be sick in the font! But we got through it. Afterwards, we were all rather elated. So we said, alright then. Let's do one more.
"We're a community-based orchestra now, but students still come and play with us, and I love it when they do."
As Wales' premier non-professional orchestra, the CPO has had some very special guest performers, from Sir Bryn Terfel and Sir Karl Jenkins (BMus 1966, Hon 2005) to Hollywood actor Michael Sheen, Bonnie Tyler and even Lord Neil Kinnock (BA 1966). "When Brian Blessed came to narrate Prokofiev's Peter and the Wolf for us", Michael reminisces, "we changed the duck's name to Gordon, so Brian could end the concert by saying his famous line, 'Gordon's alive!'."
The orchestra has often gone on tour, but Michael thinks of St David's Hall as their "spiritual home". "I always tell the orchestra that it doesn't matter if we perform to a capacity house, or a handful of people: we must be at the top of our game. That is what an orchestra does."