My Cardiff is… 17°47'S; 179°9'W.
15 November 2017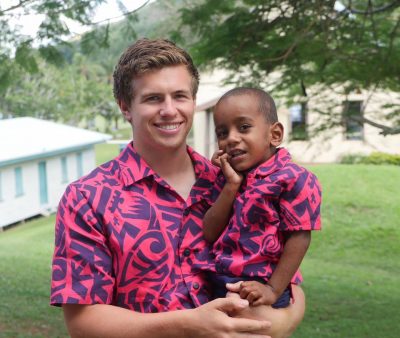 Callum Drummond (BSc 2016) is the founder of Bula Batiki, a non-profit coconut oil company
At a time when most first year students are pre-occupied with the excitement of a new life in a new city, Callum Drummond's thoughts lay elsewhere: 16,000 kilometres away, on a remote Pacific Island where white sandy beaches are fringed by tall palm trees.
For most of us, a tropical paradise is just a daydream. But Callum was remembering the good friends he'd made there.
"Before starting at Cardiff, I was volunteering for a charity in Fiji called 'Think Pacific'. It's a social enterprise that brings gap year students to Fiji. The volunteers help lift Fijian children out of poverty, by building infrastructure and supporting education.
"That's what first brought me to the shores of Batiki.
The island of Batiki has a land area of 12 square kilometres and a population of roughly 300 Fijians. The island has no roads or airport; Callum gets to the island via a three hour boat ride from the Fijian mainland.
"I stayed with a Fijian family who really took me under their wing. By the time I left, I felt like part of the community."
So strong was the attachment that at the end of his first semester, Callum returned to spend the Christmas break with his Fijian family.
"I started to think about the Vu ni Niu (coconut palms) scattered across the island. I knew there was high demand for coconut oil in UK. I realised we could export it home and use the profits to reinvest in the island."
Callum had no prior interest in entrepreneurship. But with the help of Cardiff's Enterprise Team, he wrote an effective business plan for 'Bula Batiki' which went on to win SPARK, the University's annual business ideas competition.
With the aid of a small grant, Callum flew back to Fiji and pitched his idea to the community. In an area where inhabitants eke out a living through subsistence farming and fishing, there was widespread support.
"We developed our packaging and began paying villagers for the production of coconut oil.
"It takes only six coconuts to make one jar of oil, but each jar has an enormous impact. Selling our first 160 litres allowed the villagers to develop their houses and enabled children to go to school."
In February 2017, Callum raised £8,000 through a successful crowdfunding campaign which he hopes to use to extend his model of sustainable enterprise to neighbouring islands.
"Then we can really start to make a difference. That's where I see my future. All my hopes and dreams lie in Batiki."