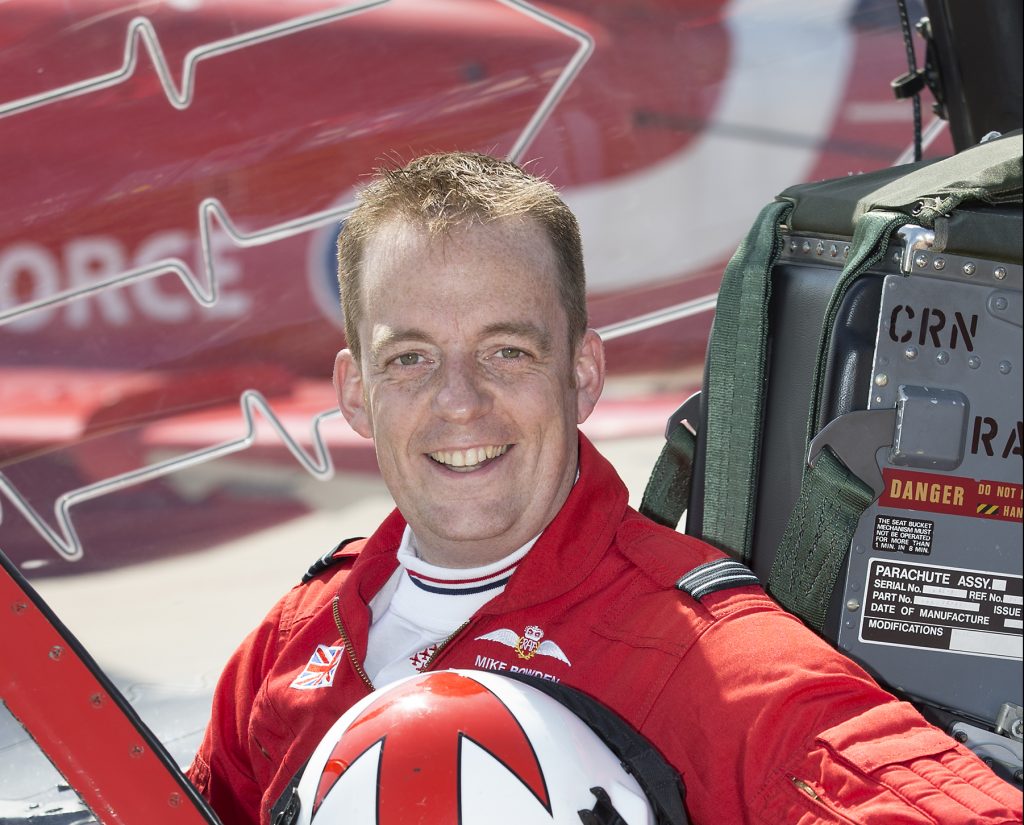 Flt Lt Mike Bowden (BSc 2002) is a fast jet pilot and Red 8 in the Red Arrows, the Royal Air Force's world famous aerobatic display team.
"Being a Red Arrows pilot was a childhood dream that I never let go. My dad was an RAF engineer, and my determination grew with every airshow I saw.
I began a flying scholarship at 16, and learned to pilot a plane before I could drive a car. Growing up in Newport, it was a strange feeling to have to ask my mum to drop me off at Cardiff Airport before barrelling about the skies on my own.
I was lucky enough to have the RAF sponsor me to go to Cardiff University to read Computing and Mathematics. I'm very grateful to this day for that choice; it set me up very well for my career. I also joined the University of Wales Air Squadron. We trained at the airport twice a week, and then in the summer we'd be sent all over Europe on exchanges, to be part of a fully-fledged squadron. It was a fantastic experience.
When I finished my studies, I trained on the Hawk aircraft and became an instructor at RAF Valley, on the island of Anglesey. Later, I was privileged to fly the iconic Harrier Jump Jet and the Tornado GR4 in support of NATO coalition troops in Afghanistan. It was a true honour.
Now, I feel incredibly lucky to be a Red Arrow. More people have been into space than put on the famous red flying suit. There are only nine pilots in the display team, and it takes six months of intensive training to become proficient at flying in your position.
There's no typical day – in the summer you can be anywhere. Last year I was in China, Vietnam, Malaysia, Thailand and the Middle East. We took our display to 22 countries in six weeks, and greatly enjoyed our role as ambassadors for the best of British.
You have to pinch yourself every morning and sadly it can't last forever. 2018 will be my last year on the team and happens to be the 100th anniversary of the RAF, and so a fantastic time to hang up the suit.
I don't know what the future holds, but I met my wife at Cardiff and I think we will look to settle down there. It's that special city that always puts a smile on your face."