My Cardiff is… changing the way we think of disability
8 November 2017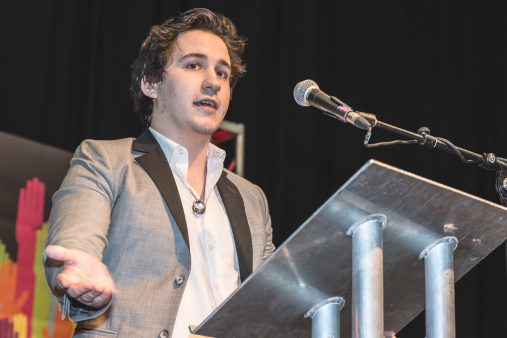 Charlie Knights (Criminology and Social Policy 2014-) is the students with disabilities officer at Cardiff University.
"Honestly, Cardiff wasn't my first choice. I'd been to a few Open Days, but it wasn't top of my list when applying. Yet whilst coming here wasn't quite what I had planned, it's ended up being really right for me.
In my teens, I was diagnosed with a number of mental health conditions. My school were very good about it and I received counselling, but the experience led me to realise nobody was talking about mental health. That was a problem.
I felt passionately about it and started doing talks; since then I've always been involved with campaigns around disability. Obviously, that's fed into my role as Students with Disabilities Officer at Cardiff.
 Did you know you're more likely to be hired by NASA if you're dyslexic? It's because dyslexic people tend to be better at visualising a 3D space, they can look at a 2D blue print and envision it in full. Disabilities aren't as limiting as they're perceived to be!
My experience of the student support service here is two-fold; when I've gone to speak to the team about my mental health, they've been incredible. But professionally, I've also been pleasantly surprised by the eagerness of the staff – they really want to be involved with what I do.
As a guy, one of my current concerns is male suicide – it is the biggest killer of men under 45, and that's a huge deal. We hear that anything from a third to three quarters of students will experience anxiety or depression during university and I think that's awful.
I struggle with depression on a daily basis, but with the right support at least I've got to grips with it. Student life is busy, almost chaotic; to be first struck with mental health issues during an exam season would be very difficult. You need the right services, and that's what I'm working on.
I want to create consistency in extenuating circumstances across Schools and seasons, I've started a steering group; hopefully we'll be able to create equality for students and simplify the process for the university too. Win-win!
I don't think being involved with this kind of campaigning will ever leave me; it's an integral part of who I am. My ultimate dream is entertainment TV – maybe I can be the next Graham Norton. Chatting to celebs – but also raising the issues that really matter from time-to-time."