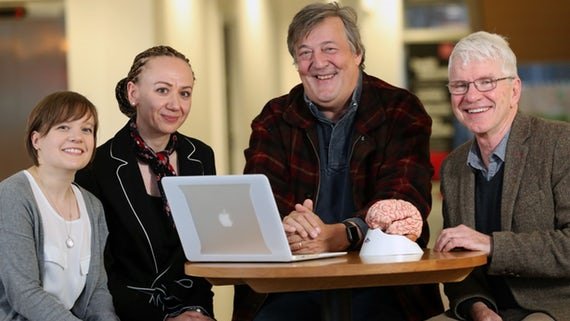 Cardiff University Honorary Fellow Stephen Fry (Hon 2010) visits Neuroscience and Mental Health Research Institute.
Earlier this week, Stephen Fry – one of the UK's best known actors, writers and comedians – dropped in on staff and students at Cardiff University's Neuroscience and Mental Health Research Institute to learn more about the latest research taking place at the world-leading centre.
As Patron of the Institute, Stephen is a keen advocate of its work and uses his outstanding public and media profile to help break down the stigma so often attached to people who experience mental health difficulties. As part of his 2006 documentary – The Secret Life of the Manic Depressive – he visited Professor Nick Craddock's team to discuss the condition, and also took part in his largest ever research study into bipolar.
During his latest visit, Stephen met with the Institute's Emeritus Director, Professor Sir Mike Owen, and some of its leading researchers, to hear about their latest research in this area. The visit concluded with a conversation with Ben Lewis, Director of Student Support and Wellbeing. As a friend of Cardiff, and a champion for the holistic support of student wellbeing more broadly, Stephen learnt more about Cardiff's sector-leading student support model.
Stephen re-emphasised his Patronage of the Neuroscience and Mental Health Research Institute, and gave his public backing to Cardiff's student wellbeing and support operation. He said: "I hold my relationship with Cardiff dearly, and am delighted to have had the opportunity to visit again and see some old faces, and meet some new ones. It's clear to me that Cardiff's Neuroscience and Mental Health Research Institute, and its Student Support and Wellbeing offering, both represent sector-leading examples of excellence, and I am proud to be an ambassador for both."
Professor Sir Mike Owen said: "We remain very grateful for Stephen's public support of the Institute. As both a leading area of research at Cardiff, and one the University's identified priority fundraising areas, the profile Stephen continues to afford our efforts is invaluable, and a real asset as we seek to address some of the biggest challenges facing global health and wellbeing in the 21st Century."