The running diaries – #TeamCardiff 2017
27 September 2017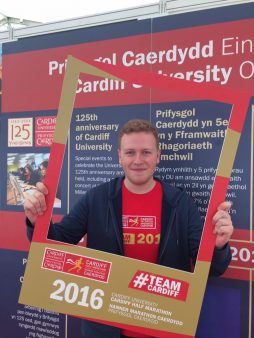 Ahead of Race Day, here is another instalment from Alex Norton (BA 2015) on his race day preparations ahead of the Cardiff University/Cardiff Half Marathon.
"It seemed like such a good idea at the time.
"Manning the #TeamCardiff stall in the Runners' Village on Sunday, 2 October 2016, you couldn't help but be inspired by the steady stream of people raising funds for cancer or neuroscience research here at Cardiff University.
"And as we brazenly asked exhausted finishers to register their interest in 2017, it was the obvious – the decent – thing to do.
"355 days later, I can't quite fathom what I was thinking.
"Having worked around #TeamCardiff for the last nine months, I am more convinced than ever that these incredible causes are worth running yourself into the ground for. I have met the researchers and the beneficiaries, and I cannot overstate the difference that we will make.
"All the same, 21.1km (13.1miles) seems a long way. And as with most things I've attempted in my life, I have decided that it is insurmountable. Brilliantly, therefore, I have devised a game plan based on the constant use of the various water, energy gel and, er, toilet points to attack the course in short bursts of 5km.
"Still seems a bit ambitious, but I'm much buoyed by meeting some of my fellow runners at the recent #TeamCardiff Social Run (I stayed and looked after the bags) who reassured me that I might not be alone in taking on the streets of Cardiff at what I am now calling 'sightseer speed'.
"In terms of training, there have been setbacks. Terrified by the thought of being made to run in public, I ordered shoes online. They came with studs, which (and I've verified this) are a potent combination of both unnecessary and dangerous on asphalt. So those are in the bin.
"My discipline has also crumbled. I've traded in 10km trudges around Roath Park for linguine and Muscat – I hope, with nine days to go at the time of writing, I have not chronically miscalculated. It is important to be well rested, after all.
"I hope too that this blog has served to make you feel better about your own training exploits, and convinced you of the sheer nobility of the trial ahead – and I look forward to seeing you on the day, as those red shirts whizz past my supine form.
"I may well write to update you in the aftermath – but that depends on my time…
"Pob lwc!"
You can support Alex via his JustGiving page.