Meet #TeamCardiff – Hannah Sterritt
27 September 2017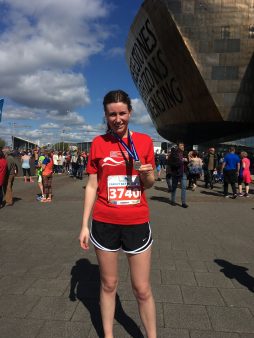 Hannah Sterritt (BMus 2015) shares an update on her training for Cardiff University/Cardiff Half Marathon ahead of the race on 1 October.
As the coordinator for all things #TeamCardiff  at Cardiff University, coming into the office every day and speaking to our runners has been a constant source of motivation to get my trainers on after work. Our runners  are inspirational. There are countless stories of what running for Cardiff University research means to our amazing runners, and the barriers they have overcome.
For me, I've never been a runner. I used to make excuses to get out of cross country at school, and have never been a 'sporty' type, so when I made my New Year's resolution to finally run the Cardiff University/Cardiff Half Marathon, I knew training was (literally) going to be a marathon not a sprint.
I'm glad I started early with the 'Couch to 5k' programme, then pushing myself to complete my first race in April the Cardiff Bay 10k. After coasting through summer, I signed up to run the Cardiff 10k whilst I was on holiday in August, after coming to the conclusion that having that date looming just a few weeks after I got back would certainly get my training back on track.
The Cardiff 10k on 3 September was a really enjoyable day, despite the forecast of heavy rain! Compared to the Cardiff Bay 10k where I didn't know what to expect, I was a lot less nervous and so could really focus on the run itself (and where I wanted to go for my post-race lunch!). I am chuffed with my PB time of 1:01:35, which hopefully puts me in good stead for Race Day in less than a week's time.
Running has become something I have built into my lifestyle as a hobby, and although the past few weeks of runs have required sacrificing a few social opportunities, I'm looking forward to sticking with it after the Half, and becoming fitter and quicker. This attitude does however come in waves, so really at this point I'll be happy with any time as long as I cross that finish line!
I'm also looking forward to seeing all of the other #TeamCardiff runners at the post-race celebration event. It's great to feel part of a team raising money for two fantastic causes: cancer research and neuroscience and mental health research. I'm fundraising for neuroscience and mental health research, to enable Cardiff researchers to develop their existing work in the identification of the genetic origins of diseases, including Alzheimer's disease, dementia, bipolar disorder and schizophrenia. Our researchers are now providing new insights into how these genes influence our biology, brain and behaviour – insights which are translated directly to patients, changing clinical practice in the process.
It'd be great to see you on the route cheering me and the rest of #TeamCardiff on!
If you would like to support Hannah you can do so via her JustGiving page.