Cardiff welcomes Honorary Fellows to the alumni community
25 July 2017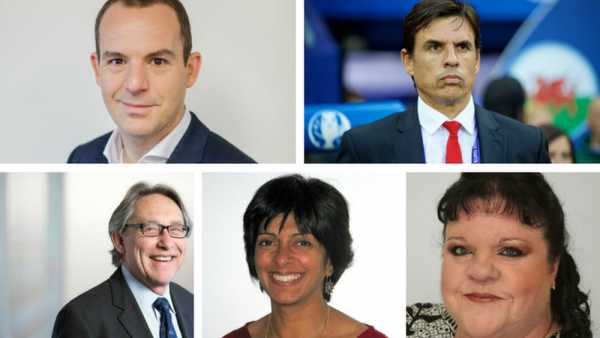 Cardiff University's honorary fellowships are conferred upon those who achieve international distinction in their fields and enjoy a close affinity with the institution, the city of Cardiff or Wales as a whole, and in July we were delighted to add 15 names to the prestigious roll call.
Amongst them were six alumni of the University, including artist, businesswoman and equality campaigner Rosie Moriarty-Simmons OBE (BSc 1985), MoneySavingExpert.com founder and broadcaster Martin Lewis OBE (PgDip 1998) and Dr Bhanu Ramaswamy OBE (BSc 1998), a pioneering physiotherapist and consultant for treatment of Parkinson's disease.
They were joined by former Permanent Secretary to the Welsh Government and current Chair of the Prince's Trust Cymru, Professor Sir Derek Jones (BA 1974), gender equality campaigner and Chief Executive of Chwarae Teg, Cerys Furlong (MSc 2005) and medical researcher Dr Alan Lewis (PhD 1971).
Others to be recognised included Wales football manager Chris Coleman, Managing Director of GE Aviation Wales, La-Chun Lindsay, the Guardian newspaper's Editor-at-Large, Gary Younge, and Director of Europol, Rob Wainwright.
They were joined by the Chair of the Arts Council in Wales, Dr Phil George, STEM education advocate and founder of the Faulkes Telescope Project, Dr Martin Faulkes, General Secretary of UNI Global Union, Phillip J. Jennings, semiconductor pioneer Dr Drew Nelson OBE and journalist, broadcaster and Baptist minister, The Rev Roy Jenkins.
Each Honorary Fellow had the opportunity to address one of the week's ceremonies as they were presented with their scroll, with around 6,000 graduands, family and friends benefitting from the stories, insight and advice of some truly celebrated names.
Cardiff is delighted to welcome our new Honorary Fellows to the alumni community along with the wider Class of 2017, and we look forward to celebrating their achievement for years to come.