Legends of Cardiff University
25 July 2017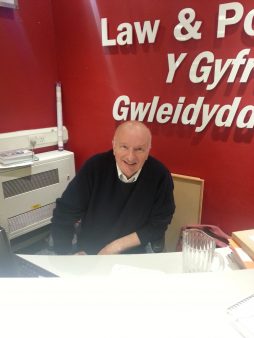 We've sought high and low for the legends of Cardiff and found many people worthy of the title all across the University. Here's a roundup of the legendary profiles we've gathered so far: they include a Eurovision star, engineer-turned-receptionist, cappuccino expert and a temp worker who ended up staying 17 years! See if you can spot anyone familiar from your time at Cardiff University.
Dave- Law Building receptionist
"Hi, I'm Dave! If you studied Law at Cardiff, or ever had lectures in the Law Building, you probably know me. I've been here for 18 years now! I used to be an engineer, I certainly never expected to end up as a receptionist at Cardiff University – but after almost 20 years here I can confirm that I absolutely adore my job.
"I've received a lot of honours in my time at Cardiff. I've won the 'most uplifting member of staff' award multiple times, and even received the Vice Chancellor's Award for 'Student Commitment' from Colin Riordan himself. The students at Cardiff are wonderful; in the past they've made me their own personal awards (I have a "Dave" Oscar and "happy-chappy" certificate!)
"I really do love this place. I'm the only member of staff who gets to go to the Law ball every year. Past students still pop in to say hello. I feel honoured that they come back just to see me, it's great to hear about what they've gone on to do. If I had one tip for Cardiff graduates it would be to always be yourself- there's no one else quite like you, and I think that's brilliant!"
Elaine- Student Media coordinator
"My name is Elaine, I first started working in student media fourteen years ago! When I joined in 2003 my role was assistant to the Gair Rhydd editor, but now I am the media coordinator for all sections of student media.
"Alongside my job at Cardiff, I have a life-long singing career. I've recorded music albums in the same studio as the Rolling Stones. I was even part of Eurovision back in 1996, when the Celtic band that I sang in were asked to represent France! I love working in student media and seeing the wonderful things the students I work with go on to do, the experience they get at Cardiff is what helps them break into the industry. If I had one pearl of wisdom to offer graduating students it would be to do what you love, it sounds clichéd but it really is true. I've been lucky enough to have always worked in jobs that I love; both at Cardiff and with my singing, it's the recipe for a happy life."
Carol- Glamorgan Building coffee shop supervisor
"Hi, I'm Carol. I'm a supervisor at the coffee shop in the Glamorgan building. I've been working at Cardiff University for 24 years now. I got the job through some friends- before I moved here I worked down at Talybont making hot drinks for the workmen.
"The Glamorgan Building is a beautiful place to work. Everyone here is lovely, both staff and students. You get to know a lot of people while they're out for their daily caffeine hit. I think the Cardiff favourite in terms of coffee is a cappuccino- it's definitely our most popular hot beverage.
"I'd like to wish the best of luck to the class of '17 graduating this year! Also, we're getting a new coffee machine over summer. So feel free to pop back in and see how the new cappuccinos are!"
Mary- Law Building receptionist
"Hi, I'm Mary. My job as a receptionist at Cardiff University all started with a temp job. I was offered a couple of weeks work on the reception desk at Cardiff's Law School. As it turned out, I ended up staying here quite a bit longer than a few weeks – 17 years longer in fact!
"I'm retiring soon but I can honestly say I've loved my job here. My favourite thing has been interacting with the students every day; they are polite, fun and really interesting. I've taken in some weird deliveries over the years, from tents and tyres to worms and fish (yes, real live fish) – there's certainly never been a dull day!
"For all the students who will be graduating this year I wish you all the best in the future, and if you're from the Law School we'll probably catch up on Facebook!"
Professor Dave Wilson- Professor of Medical Education
"Hi, I'm Dave. I'm a Professor of Medical Education and Director of Admissions at Cardiff- I first began working here ten years ago. Being from Bristol, I had visited Cardiff many times in the past and I wanted to work in a beautiful city, at a Russell Group University, in part of the UK that actually had a summer (I previously spent 22 years in Belfast- the weather was rubbish!)
"The best part of my job is teaching students- I honestly think it is a privilege. University students are brilliant; they always have, and always will be, my main interest and concern.
In terms of amusing stories, there was a photo of me in my decorated office (for my 60th birthday) put on the student Facebook page recently. It had hundreds of likes and my fiancé asked her daughter, also a student, if that was good. Her reply? 'For a professor, that's viral!'
"As for passing on some wit and wisdom, I came across something from Judith Stern the other day…"Experience: a comb life gives you after you lose your hair."
Dr Hannah Shaw
(BSc 2004, PhD 2007)

Lecturer in Cardiff's School of Biosciences

"Hey, I'm Hannah! I'm a lecturer for the School of Biosciences and I've been working at Cardiff University for almost ten years. I vividly remember thinking as an undergrad that my dream job would be to teach anatomy- and here I am!

"My favourite part of work is the students. There is nothing quite like seeing that light bulb go off and knowing what you've taught them has really clicked. The students who come to Cardiff are wonderful and have a desire to learn- that is what makes the Cardiff experience so brilliant. Well, that along with the amazing city! I wish the best of luck to all students graduating, remember, you really can do anything you set your mind to!"