Erasmus+ is 30 – Share your Erasmus story with us!
21 July 2017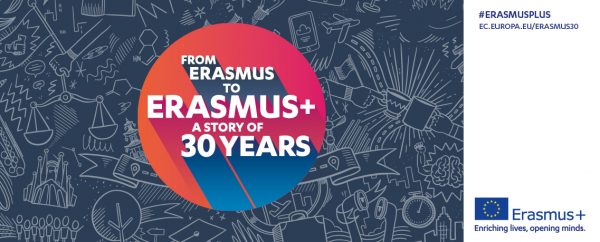 Did you take part in a study or traineeship placement in Europe whilst studying at Cardiff University?
This year the Erasmus programme turns 30! Cardiff University is planning a celebratory event for later in the year. In the run up to that, we would like to hear from all alumni who have taken part in the programme. Please share your own stories and photos with us! During the celebration we would like to showcase the positive impact that involvement in Erasmus has had for alumni, students and staff at Cardiff University.
Your Story
For an opportunity to win a travel voucher, and to have your photo and story feature as part of our 30 Anniversary Celebration, please share with us your personal experiences of the Erasmus programme. Details to include:
 Your name and degree programme
 High quality photo taken during your Erasmus experience
 Where? (University/Organisation, City, Country)
 Date of placement
 What you did?
 Short quote
Competition details
Entries for Your Story should be submitted to: erasmus@cardiff.ac.uk by Sunday 6 August 2017. By submitting an entry, you agree for your case study and photo to be used in Erasmus+ promotional materials.