Meet #TeamCardiff – Julie Smith
21 July 2017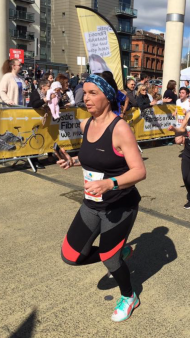 I decided to take part in the 2017 Cardiff University/Cardiff Half Marathon as a personal challenge.  After previously only running on a treadmill, last year I ran a 5k and realised I prefer to run outside. Last Christmas, I went for a run and ended up doing just under 10k; I joked to my husband that maybe I should go for a half marathon – the rest is history!
I saw Cardiff University were offering free places for people who signed up to raise money for two of their research causes, I thought I'd give it a go, never expecting that I would be offered a place as a 46 year old woman (I will be 47 when the half marathon takes place) who has never completed one before and had no links to Cardiff University.
I decided to raise money for Cardiff University neuroscience and mental health research as this research covers Alzheimer's. Both my in-laws had Alzheimer's, so I have first-hand experience of how this impacts on a person and their families. I also work in Children's Services and see how mental health impacts young people and parents, and the little support that is provided to people with mental health issues. I hope more research into these areas will mean support is provided at an earlier stage.
My training has been going really well: I have attended two training runs with Run 4 Wales. It was great to speak to fellow runners about their training and half marathon experience.  I also took part in the Cardiff Bay 10k run and the Women's Running Series 10k, which I have found helpful for getting used to running in crowds. I am also planning on running the Cardiff 10k in September!
Every Sunday, I run on my own with my headphones in, taking in the beautiful views running from my hometown of Barry to Barry Island. My longest run to date has been 10 miles; I plan to only run 11 miles in training saving the full 13.1 miles for race day!  I've found training frequently and mixing running with other forms of exercise works well for me, alongside realising you can't expect to run long distances without building up the distance slowly but surely. Another thing I have learnt is to listen to your body; when you may have planned to go for a long run but feel tired, cut it short – there is always another day to run.
Whilst I am looking forward to the day, I am also slightly nervous  it will be the biggest crowd that I have ever run in. Additionally, Penarth Road seems never ending – will I get to the top of it?! I'm hoping so as my cousin said that she will be by Baron's Court with the Jelly Babies… and I have to get to the finish as my husband will be waiting for me, with chocolate cake and coffee!
So far I have raised £110 and as the run draws closer I will be sharing my JustGiving page more frequently to hopefully reach and exceed my £150 target. I update my JustGiving page regularly with my progress on the miles that I have managed to cover.
See you on the 1 October!
If you would like to support Julie you can do so on her JustGiving page.