Ultramarathon challenge for Cardiff University alumnus
12 July 2017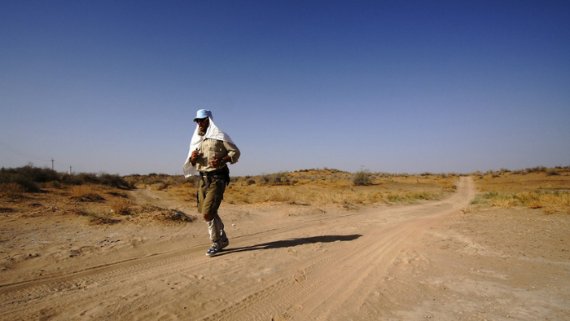 Jamie Maddison (BA 2009), an alumnus of the School of Journalism, Media and Cultural Studies, is setting off on a 100-mile ultramarathon in Kazakhstan this September.
The 28-year-old, who currently works as an adventure speaker and content strategist in London, hopes to complete the challenge in 24 hours. Navigating while he runs and followed only by a support vehicle, Jamie will cross the Saryesik-Atyrau desert in East Kazakhstan, a nation which until the 1990s banned travel to and from the European Union.
Jamie said: "I'm trying to focus on pockets of the world that people back home know very little about…"
While studying in Cardiff, Jamie sparked an "intense love for rock climbing" as Secretary for the University's Mountaineering Club. Trips to the Welsh International Climbing Centre on Tuesdays and Thursdays, and the Gower Peninsula on weekends, soon led him down a path leading to expeditions across Asia.
Since graduating, Jamie has explored remote areas of the world uncovering 10th Century arrowheads in the mountains of Tajikstan, discovering an abandoned experimental Soviet weapons testing facility, and running with camel herders in Uzbekistan.
TJ Rawlinson, Director of Development and Alumni Relations at Cardiff University, said: "Jamie's expedition is an example of the incredible things our 155,000-strong global alumni community do with their lives after graduating from Cardiff…"
Follow Jamie's preparation up until his expedition here.