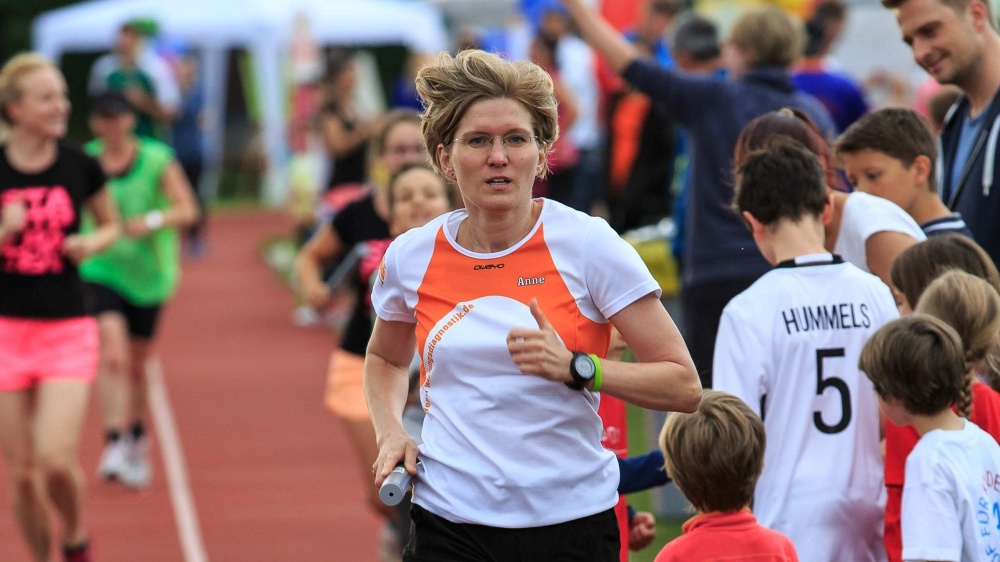 Dr Anne Rebafka (MSc 2009, DAHP 2016) is running the Cardiff University/Cardiff Half Marathon to raise funds for Cardiff University cancer research.
When I was diagnosed with advanced cancer at the age of 21, no one, least myself, would have imagined me to be where I am now – 16 years later – having finished two marathons and having achieved a Doctorate in Advanced Healthcare Practice from the School of Healthcare Sciences at Cardiff University.
I re-started running when I started my doctorate at Cardiff University, after not having done any physical activity due to my illness (and to sheer laziness, to be honest) for more than ten years – so both somehow seemed to belong together quite naturally.
I soon discovered that running also aided studying and vice versa. My neighbours very soon got used to seeing me running through the woods dictating clever (and sometimes not so clever) things to my mobile phone. I also felt nothing could empty my head as effectively as being physically tired, so running became as much a part of my life as my doctorate. Therefore, when I completed it last year, I expected to read lots of trashy novels and binge-watch all seasons of Downton Abbey in my expected vast free time. However, I ended up doing even more sport and realised that unlike a doctorate, physical activity is nothing I will ever be able to finish (I did finish Downton Abbey, though!).
I then discovered that I could celebrate two of my biggest achievements (no, I don't mean finishing two marathons) together by doing something I really love: running. It didn't take me long to decide that I wanted to be part of #TeamCardiff to support Cardiff University cancer research and also to say thank you to Cardiff University. The first motivation is rather obvious but the second one is just as important.
Studying in Cardiff has influenced me much more than I ever expected. That is especially because in the School of Healthcare Sciences I found a gathering of some of the brightest people I know, who have taught me so much more than being a researcher.
Fundraising for charity is quite uncommon in Germany (where I live, love and run) and I honestly doubted that I'd be able to raise £150 but I must admit I'm incredibly thankful and impressed by the efforts my friends and family have made in supporting me. My mum never seems to get tired of asking literally everyone she knows – DANKE! And here I am now, having raised almost £850 which is just amazing!
So back to running: I can't wait to come back to Cardiff and run the Cardiff University/ Half Marathon. Being part of #TeamCardiff makes it even better and I'm very proud. In the meantime, of course I'm going to continue training and, believe me, I sincerely pray that the 1 October will be the one day without rain in Cardiff in October!
If you would like to support Anne you can do so on her JustGiving page.