Millions of eyes on Cardiff
25 May 2017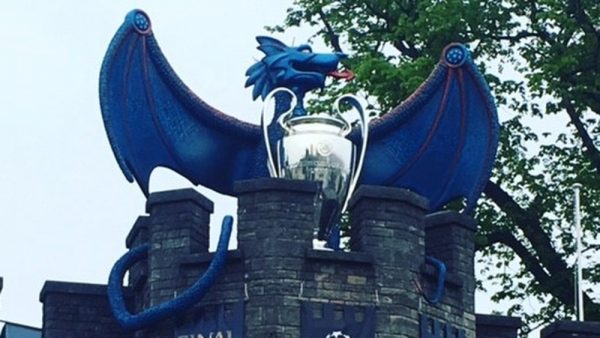 There is just one week to go until millions of eyes turn to Cardiff, with the stage set for this year's biggest sporting event: the UEFA Champions League final.
Preparations are well underway across the city, with a blue dragon guarding a large trophy atop the wall of Cardiff Castle, a huge campsite popping up in Pontcanna fields and a floating football pitch in Cardiff Bay for the Champions Festival (1-4 June), which includes the 'Ultimate Champions' legends game.
The Women's final is an all-French affair, with Olympique Lyonnais Féminin facing Paris Saint-Germain Féminines at the Cardiff City Stadium in Grangetown on 1 June, followed by the aforementioned Ultimate Champions Match in Cardiff Bay a day later.
The Men's final will be a fierce clash between holders Real Madrid and Italian champions Juventus, taking place at the Principality Stadium – rebadged the National Stadium of Wales – on 3 June.
Cardiff-born superstar Gareth Bale has been declared fit to play for the Spanish title winners. If he scores a decisive goal in front of his home fans, who's to say he won't join them in 'Elevens' – his newly opened sports bar in the city centre – for a well-deserved pint of Bale Ale? (Yes, that's a real thing.)
The game will likely see two truly iconic footballers face off for the ultimate prize at club level, with four-times Ballon d'Or (the award for the world's best player) recipient and EURO 2016 winner Cristiano Ronaldo attempting to retain the title against legendary Italian captain and World Cup winner Gianluigi Buffon, considered by many to be the finest goalkeeper of all time.
They will be supported by a cast of star names including the likes of €90m forward Gonzalo Higuain, two times European champion Karim Benzema, one of the world's best defenders in Giorgio Chiellini, Spain captain Sergio Ramos and – of course – Cardiff-born superstar and second-most expensive footballer in history, Gareth Bale.
If you've not yet decided who to support, check out our Champions' League trivia below.
Teams
Real Madrid once faced Cardiff City FC – in the 1970-71 European Cup Winners' Cup. In an incredible feat of giantkilling, City beat the Spanish giants 1-0 at Ninian Park! Unfortunately, they lost 2-0 in the return leg to go out of the competition.
Juventus goalkeeper Gianluigi Buffon has played 1,009 games in a professional football career that began in 1995 – the year that many of our Class of '17 were born. He has played for Italy for twenty years, and his 167 appearances are a European record. However, he has never won the Champions League. Could all that change next week?
Olympique Lyonnais Féminin are the highest ranked women's team in Europe, and often play home games at the 59,000 capacity Parc Olympique Lyonnaise.
Whitchurch-born winger Gareth Bale was the most expensive footballer in history when Real Madrid signed him from Tottenham Hotspur for £86m in 2013. He has since scored 67 goals for the team, and won two Champions' Leagues – but pundits say he could join Manchester United this summer.
Juventus are colloquially known as 'The Old Lady', and have won five Italian titles in a row – contributing to a record tally of 33 Serie A trophies since 1905. Despite this, they have only been European champions twice previously: in 1985 and 1996.
Venue
The Principality Stadium was built in 1999, and is one of the largest in the world to feature a fully retractable roof – locking in that legendary atmosphere. It hosted major English footballing occasions between 2001 and 2006 (whilst Wembley was rebuilt) including the FA Cup, League Cup and play-off finals.
This is Real Madrid's second visit to Cardiff in quick succession, after playing in the UEFA Super Cup in 2014 – two goals from Ronaldo saw them beat fellow Spanish La Liga side Sevilla to lift the trophy at Cardiff City Stadium.
As well as Bale, Cardiff is home to another legendary player – Ryan Giggs. The Welsh winger was born in Canton, and played for Manchester United between 1990 and 2014; in the process he became Europe's most decorated player.
Local club Cardiff City FC were formed in 1899, and remain the only non-English side ever to have won the FA Cup – the world's oldest footballing cup competition.
Last year, Wales utilised their "golden generation" to reach a first tournament since the 1958 World Cup. In it, they put in a host of scintillating performances – including a 3-0 defeat of heavy favourites Belgium – to reach the semi-finals. Whose goals knocked them out? That's right, Cristiano Ronaldo.