Examined Life – Heather Knight (BSc 2012)
4 May 2017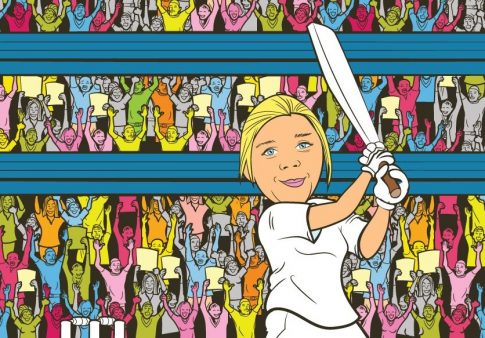 Heather Knight (BSc 2012) is captain of the England cricket team.
I started to fall in love with cricket when I was about six years old. My brother and I played in the back garden, and we both joined the local cricket club, Plymstock CC. I spent most of my childhood there playing in the boys' and men's teams, but didn't really view cricket as a potential career path until I'd spent four years playing for England and professional contracts came in.
 I wanted to go to a university with an MCCU cricket academy. Having visited Cardiff for an open day, I felt it had a really good vibe and I knew I would enjoy my time there.  I was particularly interested in Physiology, and Cardiff has a very strong Bioscience department, which was also attractive.
Midway through my degree, I was called up for England's tour of India in 2010. I had to become very good at organising my time very quickly!  After India, I was frequently on tour for months at a time, meaning I had to study a lot of the lectures remotely.  I also had to take some of my exams in the re-sit periods, as I'd missed the original dates due to international commitments. The department were always brilliant with allowing me extended time for assignments, and remaining flexible; I think it helped that my personal tutor was cricket-mad!
My Cardiff degree made me see things outside the sporting world from a different perspective. Nevertheless, having got into the England team in my second term, I haven't managed to revisit the field of Physiology since graduating.  It's definitely an area that I'll always retain a real interest in, and remains an option to explore later in my career.
I always loved Six Nations weekends in Cardiff; the atmosphere in the city is electric. Being English, I didn't seem to be on the right side of the England vs. Wales clashes too often, but I always loved the occasion.
Women's cricket has progressed exponentially since I first became involved with England seven years ago. The game's exposure is becoming much more prominent, and professional contracts are becoming standard practice around the world.  Furthermore, the introduction of T20 leagues like the Kia Super League and the Big Bash mean that cricket is played all year round. I'm glad I got my degree when I did, as it would certainly be much harder now.
 As captain of England, I lead from the front. Following an iconic figure like Charlotte Edwards, who captained the team for ten years, was always going to be tricky.  However, I've always tried to lead the team in my own way and try to be as open and honest with the players as I can.
The opportunity to play in a home World Cup is massively exciting. The ICC Women's World Cup takes place this summer, and is on English soil for the first time since 1993.  England fans are the best supporters of the women's game around the world, so there's no better place to play the world cup than here.  Obviously, the home advantage will be useful and we are used to the conditions, but I'm not sure we'll go into the tournament as favourites!
We'll be going into the tournament to be in that final at Lord's, and to win it. We have a trip away in April to Abu Dhabi for a training camp, and will start our squad preparations in June at Loughborough.  Like I said – I don't think we'll be tournament favourites – but that suits us just fine.
There's an opportunity for everyone to get involved in cricket. It's a very social game and there's a place for everyone at some level, as well as the opportunity to mix with a variety of people that you might not otherwise meet. I met some great people through Cardiff University's cricket club and I am still friends with some of them today.