Examined Life – Dr Alan Lewis (PhD 1971)
4 May 2017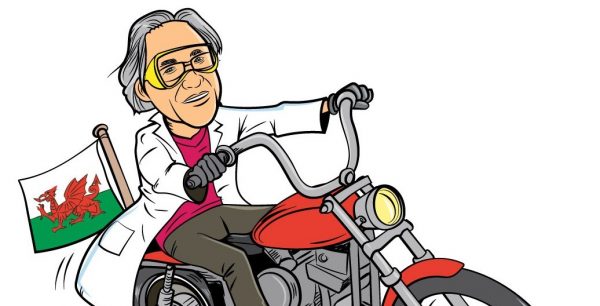 Dr Alan Lewis (PhD 1971) is CEO of DiaVacs, a company developing products to reverse the onset of autoimmune diseases.
My dad was a pharmacist and was teaching at Cardiff's School of Pharmacy. He introduced me to Dr Paul Nicholls, who was the head of Pharmacology; it seemed that this would be a great opportunity for me to return to Wales and complete a doctorate which was in keeping with what I enjoyed as an undergraduate.
My grandfather was a coalminer around the Valleys. He had pneumoconiosis and his breathing was impaired when he got older. I wanted to use human tissue for my research, and was able to pick up a sample of lung tissue from a coalminer. When I saw this sample, I was shocked – it didn't look like tissue at all. That was an eye-opener; I realised what the miners had to go through in those days.
What I really wanted to do with my journey was drug discovery and development. I'd watched a movie called Easy Rider, about these guys driving across America on motorbikes. I wanted to experience that, so I moved to the East Coast and worked for a company called Wyeth, who were part of Pfizer. If I hadn't gone to Cardiff to do my PhD, and realised the importance and significance of having a fellow Welshman to guide me, I would never have had that opportunity.
I've had a significant amount of experience researching diabetes. Type 1 diabetes (T1D) is a chronic condition, caused by insulin deficiency following an autoimmune disruption of the pancreatic beta cells.  There are 3 million T1D patients in the USA.  The only useful therapy today is lifelong insulin injections and the complications are pretty horrendous.
A group at Cardiff University have engineered a non-invasive blood glucose measure. Obviously, while you're waiting for the cure to come along, it's really important to make sure the patient can control their blood sugar levels.  Innovation is so important today, and most of the innovation comes from universities.
We're still a long way from curing this disease. What we're doing in the interim is attempting to treat it. At DiaVacs, we're attempting to modulate the immune system, and stop it attacking pancreatic beta cells and causing insulin deficiency.  Our approach is to focus on another important cell type: the dendritic cells.
I like to think of the dendritic cell as the orchestra leader of the immune system. We are trying to manipulate them into tolerogenic cells, which suppress the immune system.  By adding antisense molecules to the dendritic cells, we can silence certain genes and produce the desired effect.   One of our programs is currently being tested in the clinic, readying for Phase 2 study.
Donald Trump is trying to speed up the FDA approval system. We'll have to wait and see! Getting FDA approval for new drugs and therapy can take five years, and we're competing with other companies trying to do similar things. It will take a while before this treatment can be made available.  Anything to do with Trump is a bit precarious, so we'll leave it at that.
San Diego is a beautiful place – and believe it or not – you can get to the ski slopes in just a few hours. And if you're a scientist and you want to get into the business aspects of science, this is a great location to start.  We've got a lot of biotech companies, pharmaceutical companies like Pfizer, as well as important research institutes and universities.  It's an excellent location for post-doctorate courses.
In a few weeks' time we're going to the Rugby Sevens in Las Vegas. Wales will be participating in that; a whole group of us, including a couple of Welshmen, will be going to support our respective teams. I miss Welsh singing! I miss the rugby, although soccer is much more visible in the US – I watched the Euros with a great deal of interest last year. I was lucky enough to be in Paris for two of the games. It was awesome!
There are three types of people in this world: the Welsh, those who want to be Welsh, and those with no ambition! I saw that on a postcard in Barry, and I'll always remember that.  You can use it in all sorts of situations.