Examined Life – Eric Tan (BSc 2003)
4 May 2017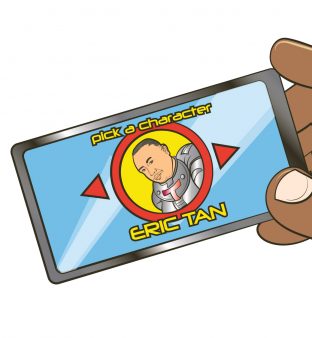 Eric Tan (BSc 2003) is founder of Fifth Journey, a Hollywood-backed gaming company bringing the movies to mobile devices.
I've lived in three continents and been exposed to many different cultures. I was born in Hong Kong, and moved to America aged 11. I returned to Hong Kong before moving to Cardiff to study for an undergraduate degree in Business Management.  It was in my time in the USA that I understood there was such a thing as MTV, such a thing as people queuing up to buy records.  In the UK, there's a lot of exposure to a variety of music; I discovered the BRIT awards, and the MOBO awards.
Growing up, I associated happiness with going to the movie theatre or buying vinyl records. I was surrounded by entertainment products, and some members of my family worked for record labels. Their stories about the 'stress' of having to hang out with Elton John or George Michael blew me away! I was desperate to learn more about the industry, and eventually spent some time working for Universal Music. I may never have had that opportunity had I stayed in Hong Kong.
I have vivid memories of my dad bringing home the first generation Nintendo. I was six years old at the time, and it was just one of those days you never forget.  That led me to Gameboy, Sega Megadrive, and more. But it was my work at Gameloft, years later, where I really cemented the foundations for a movie-gaming career.
My Cardiff degree certainly opened doors for me. I realised the importance of theoretical study in preparing yourself for a future career and in my Entrepreneurship in Small Businesses module I had to produce a business plan. I'd be embarrassed to share it now – it probably made no sense – but that exercise was extremely valuable, and a fundamental experience for any aspiring entrepreneur.
I made lifelong friendships and networking opportunities at Cardiff University. During my Business Administration year I met people from all walks of life, and we keep in touch.  I have a network of wonderful people to rely on – whether it be from a fundraising point of view or needing general advice – and this is something I value greatly.
Living in Cardiff was never boring. Queen Street had plenty of culture, and an abundance of entertainment to keep my weekends (and weeknights!) busy. There was no shortage of nightlife, with bars, restaurants, and regular club nights on offer. I'm a music guy at heart, and I particularly enjoyed the city's special R&B events on a Tuesday.  Entertainment – along with the appealing living costs – is what ultimately drew me to Cardiff.
Anyone that has a mobile phone can call themselves a gamer. I specialised in the development and publication of Hollywood games for mobile platforms, such as Iron Man 3, Captain America 2, and the Dark Knight Rises.  I worked on Despicable Me: Minion Rush, which went on to be a global and all-time bestseller for the company.  At the time, a lot of money was being poured into mobile gaming in China, but Hollywood weren't involved.
I spotted an opportunity to branch out and do it on my own and founded Fifth Journey in 2014.  Our strategy is to combine Hollywood movies with working mobile game engines. In the past, Hollywood went all-in to PC Console Gaming and lost a lot of money; we're helping to repair their inefficiencies.  We're backed by three major studios: Universal Pictures, MGM, and Lionsgate, as well as the actor and comedian Kevin Hart. Fifth Journey connects their games across multiple platforms, as well as incorporating the in-game sales potential of auxiliary products such as cinema tickets or merchandise.
Virtual Reality has the potential to blur the boundaries between games and movies. Smartphones and their processors are becoming more powerful, and there's scope to put gamers in 3D recreations of their favourite movies.  We are working on VR projects, but we have our reservations as to whether it can transcend into mass markets – it's easy to carry a smartphone on the tube or bus; it's not so easy to carry a headset.
Don't overlook the power and long lasting influence of internships. That would be my advice for anyone looking to break into this industry – or any industry.  I once had the opportunity to intern at a record label but rejected it on the basis that it didn't pay instead of thinking about the long term value it offered. I still kick myself over that; I could have been the next Simon Cowell!