Inside the beautiful game – Lauren Davies (BA 2015)
3 May 2017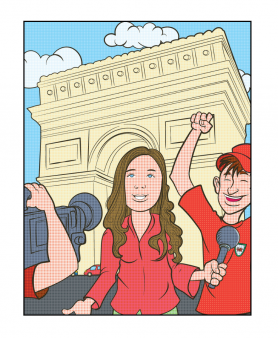 Lauren Davies (BA 2015), Media and Marketing Assistant for the Champions' League at the Football Association of Wales (FAW) shares her experiences of accompanying Wales at EURO 2016.
It's a year since I joined the FAW as Media Executive. My main responsibility is the Wales Women's game but my role also incorporates the Senior Men's side – and it was in that role that I headed out to EURO 2016.
I was still on my probation period during my time in France for EURO 106, which was quite funny.  To be attached to Wales, my home country, was an incredible experience. We went to Bordeaux, Lyon, Toulouse, Paris, Lille, and had a fantastic time.  We didn't expect to be there any longer than two weeks but in the end it was six!
It was important for us to let fans to have their say, rather than tell them what we thought was going to happen when Wales faced Slovakia in their first group match. We would arrive the day before the game and go out into the city centres to show fans back in Wales what it was like to be there, capturing the atmosphere.
I managed the social media platforms alongside my colleagues Pete and Rob; in particular Instagram. It was fantastic to scroll through our notifications to see the response from back home, and how excited everyone was.  We were getting tonnes of messages of support from schools, fans, local celebrities… the boys really surprised us all and the impact was significant; the whole of Wales united as one. We managed to light up the Eiffel Tower in the Welsh flag colours twice! That was such an achievement, to know that our content was engaging fans in France, our fans in Wales, and a new fan base across the globe.
Looking back at the EUROs, I'd like to create a similar feeling around the Wales Women's team.  When I first started working at FAW, we didn't have much media coverage, and attendance at games was relatively low.  By the end of last year, however, we'd had three games broadcasted and an average attendance of 30 media representatives.
Welsh football is ever-growing and the girls are really appreciative of our work supporting the Women's game.  The more people that come and support Women's football, the better.  We've got a fantastic bunch with some great personalities in there and we really want to see some bigger attendance from fans and media.  It wasn't that long ago that the Senior Men's side couldn't fill the Cardiff City Stadium – look at them now!
In terms of Champions League coming to Wales: it's the biggest sporting event of the year, and it shows that football in Wales is a force to be reckoned with. The Women's final is also being played in Cardiff, at the Cardiff City Stadium on 1 June. As the FAW media and marketing assistant, I'll be working to promote both finals.