Inside the beautiful game – James Woodroof (BA 2006)
3 May 2017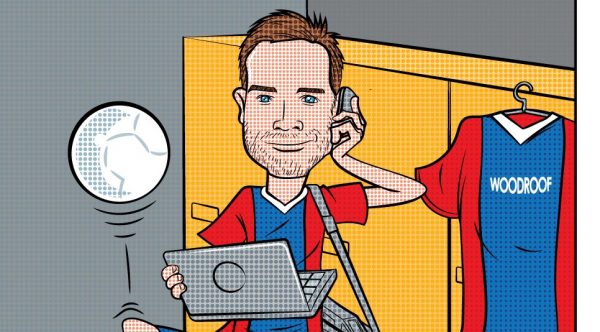 James Woodroof (BA 2006), Head of Content at Crystal Palace Football Club, comments on the challenges presented working behind the scenes at a Premier League club.
Working in any part of the sports industry is undoubtedly a privilege for those lucky enough to do so, and working for a club or governing body is – in my opinion – the ultimate.  
Those working in Premier League club media teams exist to create informative and entertaining content to enthuse fans and help ensure club platforms are the best place to follow the club, enabling commercial return.  
Premier League clubs are now media and publishing entities in their own right, communicating with millions of fans on multiple digital platforms – potentially on a scale greater than most 'traditional' media outlets.  
But those working in club media departments have a few added complexities to deal with operating in an insatiable and competitive media landscape; for example, juicy stories like transfer speculation and injuries are out of bounds.
Content teams are understandably keen to push the boundaries to grab fans' attention – there's nothing worse for fans than bland, corporate content!  But if we over-step the mark or misjudge a situation slightly (probably on social media), a situation can be inflamed and become a PR challenge.  
Not to be underestimated is the commercial focus of clubs – with retail, ticketing, membership, non-matchday events and hospitality demands – managing club channels can become a juggling act. And when results don't go to plan, it can be a tough one to balance.
But as the guardians of club platforms, we always strive to create media that presents the club and its players in the best possible light – and will resonate with our fan base, wherever they may be.
Fans take club output incredibly seriously – rightly so. We are the mouthpiece of the club, even when we're being light-hearted on social media. But we must always remember – we are in the entertainment industry and football is supposed to be fun.