Inside the beautiful game – Matt Jones (BSC 2010)
3 May 2017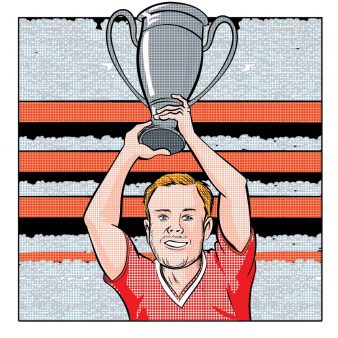 Matt Jones (BSc 2010) a Business Analyst at UEFA (the governing body of European football) and a staunch Wales fan, Matt comments on the emergence and respect for Welsh football in the global sporting landscape.
"Ce maillot appartient à quelle équipe?" I was asked on a June morning last year, whilst walking through the streets of Bordeaux.
It was a few hours before Wales kicked off their EURO 2016 campaign against Slovakia. The gentleman in question had never seen a shirt like mine – and was asking to which team it belonged.
Fast forward three weeks, and to Lyon on the day of the first semi-final: Wales vs Portugal. Walking to the stadium, I was serenaded by chants of "Pays de Galles" by hundreds of locals, all of them wanting to see the Welsh progress to the final.
Even before the tournament, the respect for Welsh football at UEFA was enormous. As one of the original four members of the International Football Association Board (IFAB), the body which first defined the rules of the sport in 1886, the Welsh FA is seen as a true founding father of the game.
That, combined with Cardiff's hugely successful hosting of the UEFA Super Cup in 2014 and now the UEFA Champions League Final, means that Wales (and Cardiff in particular), is about to attain a global profile.
I graduated from Cardiff University in 2010 with a 2:1 in Computer Science, and moved to Switzerland to work for UEFA in January 2015. I am an IT Business Analyst, which involves understanding any aspect related to European football which could be improved through the use of technology.
I remember one first year lecture in which the lecturer was talking about possible roles; as soon as he described that of Business Analyst, I knew it was for me. It's strange to think about where I would be if I had missed that one lecture.
Working at UEFA as a proud Welshman couldn't get much better at the moment. Such is the interest that I have been stopped more than once by colleagues asking if I can teach them basic greetings or how to order for a beer in Welsh!