Inside the beautiful game – Thomas Keohane (BSc 2014)
20 April 2017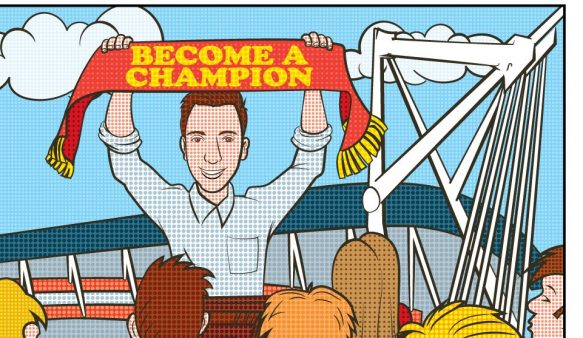 Thomas Keohane (BSc 2014) is the 2017 UEFA Champions League Final Volunteer Coordinator at Football Association of Wales. He shares with us the importance of volunteering.
As a proud, born-and-raised Cardiffian, Business Management graduate of Cardiff University and a huge football enthusiast, the opportunity to support the biggest global sporting event of 2017 in my traditionally rugby-biased home city was an unmissable one.
On that basis, I applied for and was lucky enough to be given the role of Volunteer Coordinator with the Local Organising Committee for both the men's and women's finals in June.
I know from my current role at the FAW Trust (the Grassroots and Coaching arm of the Football Association of Wales) that volunteers are vital in ensuring the success of any large-scale event and as Cardiff is the smallest ever city to host the finals, we need more volunteers than ever before.
The role of Volunteer Coordinator itself greatly varies. Initially I've spent most of my time attending universities, colleges and other groups, promoting the opportunity to volunteer at careers fairs and giving presentations in classes and lectures.
Now we're in the process of screening applicants and facilitating around 1800 interviews. There's a huge number of roles available for volunteers, ranging from marketing and VIP services to accreditation and warehouse operatives, therefore ensuring that people are given roles that suit them is extremely important.
Once the interviews are complete and volunteers are given their roles I'll be supporting with training, uniform, and accreditation. Following this, when volunteers go on site towards the middle of May, I'll be helping to manage the volunteer centre and those on shift with any issues big or small that inevitably arise on any such event.
When the final whistle blows on 3 June there will still be work to do as we're organising a party for all volunteers to be hosted on 4 June with free food, drink an entertainment.
It's obviously cliché, but without volunteers these finals simply couldn't take place and therefore we hope that this will serve as small reward to everyone who helps to ensure that Cardiff once again proves its ability to host incredible sporting events.