The running diaries #TeamCardiff 2017
17 March 2017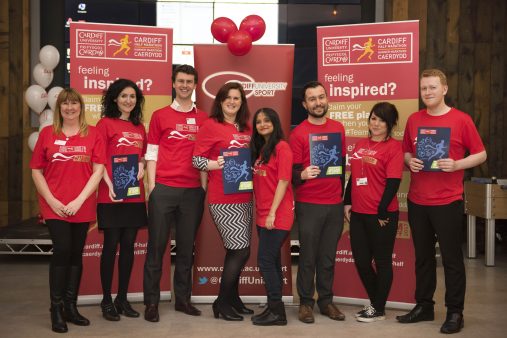 Alex Norton (BA 2015) shares his latest musings on running, Morrissey and meeting his fellow #TeamCardiff runners in his latest running diary.
In the form of this disclaimer, I give you fair warning that a gloomy paragraph or two lie ahead. But persist, dear reader, as I promise uplifting words ahead.
For the aspiring runner, February is the cruellest month; too short to feel you've made any true progress, and too dark and cold to do much about it. In the space of a little over a fortnight, my cheery acceptance of the challenge ahead has been replaced by Morrissey-esque despondency.
Soaked, shivering and sour-faced. Heaven knows, I'm miserable now.
But these are the peaks and troughs a Half Marathon entrant must face, and I am – on balance – broadly on track to be racing over shorter distances in six weeks' time. I will persevere, and Spring will come. In the meantime, I've been cheered up by playing a small part in the organisation of the #TeamCardiff launch event.
Held on the evening of 26 January at the Students' Union's Y Plas, a venue I've never previously frequented sober, we saw great numbers of all ages come over and register – if you look at the photos, this was the largest audience to ever witness a #TeamCardiff launch event, period.
The highlight for me – copiously frosted cupcakes aside – was the presence of 84 year old Brian Pemberton (MTh 2004), a proud alum of Cardiff University and an inspiring man to have in the room. At one point, I was in earshot as he asked a colleague whether it was OK to walk some of the distance; I hope so, because that's very much my game plan.
A good evening was had by all, and in no small part that was down to the playlist (which I've tentatively decided is the best ever created) that I put together, and will be making publically available in the near future. Neither Morrissey nor The Smiths feature – there's a time and a place.
Onwards, then. In the next few weeks, we've got lots of exciting things to look forward to: we'll be mailing our tips to #TeamCardiff runners in regular emails, and hope to see you again around Varsity, back in Cardiff for the first time since 2014.
And as the mornings and evenings get lighter, hopefully we'll also see more of each other out and about – I'm the puffing, beetroot one.