John Simpson delivers the Hadyn Ellis distinguished lecture
25 November 2016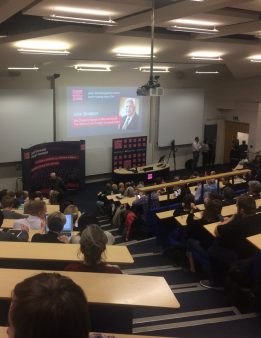 John Simpson CBE, veteran foreign correspondent of 50 years' experience and the BBC's World Affairs editor, gave the Hadyn Ellis Distinguished Lecture on Thursday 24 November.
In the first half of his address, John talked of the role of the media in the age of "post-truth politics", robustly defending the BBC against charges of partiality and insisting that "the role of the media is to be truthful, not neutral."
The remainder of the lecture was dedicated to a lifetime of stories from the front line of journalism; a career that has seen the journalist travel to 130 countries and interview some of the most influential figures of the last half century.
Anecdotes included the career highlight of "getting to know quite well" anti-apartheid icon Nelson Mandela, and bearing witness to his election as South African president in 1994.
He also looked to the future of journalism, which he suggested was "coming to an end, as I have known it" – but offered words of hope to potential foreign correspondents, advising them not to begin their careers, as he did, at large organisations, but to seek out areas of the world that were poorly covered and had stories to tell.
John concluded the evening's talk with a signing of his new book, 'We Chose to Speak of War and Strife: The World of the Foreign Correspondent'.